DAA Women in Accounting Conference | Mar. 8
extracurricular
| March 3, 2021
Submitted by
Talha Irfan
for DeGroote Accounting Association
Important Notice
For the latest information and updates about McMaster's response to COVID-19 (coronavirus) please visit the McMaster COVID-19 site.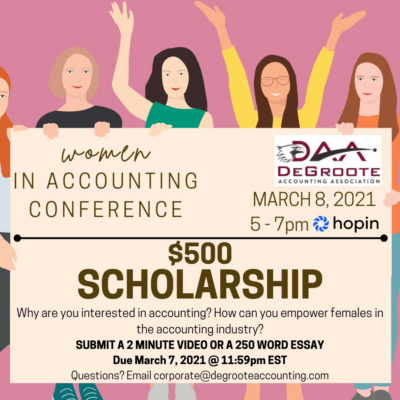 DAA presents Women in Accounting conference to showcase women in the accounting industry, provide opportunities for students to gain experiential learning and celebrate International Women's Day!
Our theme for this year's conference is Women in Leadership, achieving an equal future in a COVID-19 world. The event includes a fun night filled with a Q&A panel discussion, a keynote speaker and speed networking opportunity.
Apply for a $500 scholarship:
Submit a 2-minute video or a 250 word essay about how you can empower females in the accounting industry by Sunday, March 7 at 11:59 p.m. (EST)
Please note: You must be a DAA member in order to apply for this scholarship opportunity.
Conference Registration:
Check out our Instagram @degrooteaccounting for more information and other upcoming events.