Recruitment Event: EY Unity
This message does not apply to part-time students.
Important Notice
For the latest information and updates about McMaster's response to COVID-19 (coronavirus) please visit the McMaster COVID-19 site.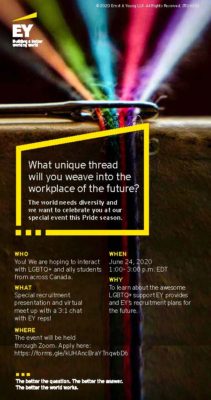 Are you looking for an opportunity to expand your professional network this summer? Do you identify as part of the LGBTQ+ and ally community? Then look no further!
EY is hosting a virtual recruitment event run by its diversity and inclusion network: EY Unity.
The event kicks off with a presentation from EY's assurance and advisory recruitment leads on Zoom. You will then enter a breakout room with a 3:1 ratio of students to EY employees where employees will share their experiences as part of the LGBTQ+ and ally community. This event is open to students across Canada and is a great place to meet likeminded individuals and learn how EY celebrates pride!
Date: Wednesday, June 24
Time: 1 – 3 pm
Register today.