TRACCS: Rail Day 2023 – Student Opportunities
career
| May 16, 2023
Submitted by
Alex Cotoc
for DeGroote School of Business
This message does not apply to part-time students.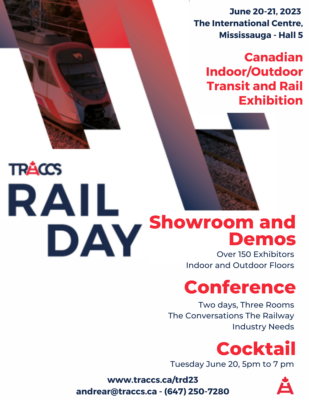 Canada's rail transportation industry is moving full steam ahead in support of the country's economic growth. Canada's government has announced an investment of $14.9 billion over eight years in reliable, fast, affordable, and clean public transit.
Transit Rail Offers…
Growth: Increased investment in railway networks and many new projects call for a bigger qualified and professional workforce, career opportunities will abound.
Innovation: Great technological advancements and constant development.
Sustainability: Reduced greenhouse gas emissions, and clean technology.
Join an industry with unparalleled growth and incredible career opportunities! Come to TRACCS Rail Day 2023 to meet with all the major stakeholders in the Transit Rail industry, and to explore a future for yourself and our community.
Details:
June 20-21
Time: 9 am to 5 pm
Location: The International Centre, Mississauga, Hall 5
6900 Airport Rd. Mississauga, ON L4V 1E8
www.traccs.ca/trd23