Volunteers wanted! The 24-Hour Case returns to campus this January
extracurricular
| November 21, 2022 (LIVE)
Submitted by
Brooke Luke
for Dean's Office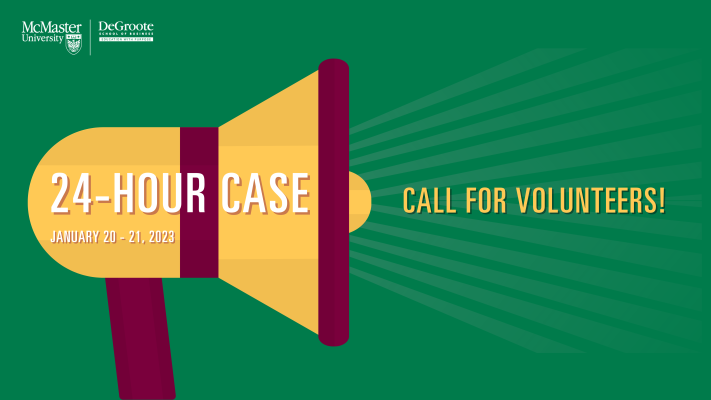 The 24-Hour Case has looked a little different the last few years, but we're excited to announce it will be back in-person in 2023, and we need your help to make it a success!
A 24-Hour Case refresher:
All DeGroote Level 1 Commerce students participate in this large-scale experiential learning activity as a requirement of the 1GR0 course and work in groups for 24 hours to prepare and deliver a six-minute presentation for a judging panel.
When is this happening?
Friday, January 20: The fun starts at 5 p.m. with the virtual 24-Hour Case kick-off event, followed by student groups working with Advisors from 6 – 9 p.m.
Saturday, January 21: Students will continue to work with Advisor support from 9 a.m. – 12 p.m. Presentations are due at 12 p.m. and group presentations take place on campus between 1:30 – 3:30 p.m.
How can you get involved?
This is a fantastic opportunity for you to network with alumni, faculty and staff while demonstrating your leadership skills as you help the first-year students!
Questions? Email Brooke Luke, Project Coordinator- Experiential Education at lukeb1@mcmaster.ca.