Are leaders born or made?
October 7, 2013
| Hamilton, Ontario
Contributed by Rick Hackett, Canada Research Chair, Organizational Behaviour and Human Performance
Leadership abounds – it plays out for good or for bad (see Dilbert) wherever people need to work together to accomplish common goals.
Interest in leadership has become a bit of an obsession. In recent years there has been an explosion of newspaper articles, books, research papers and business cases written about, or by, renowned leaders. Leadership is also big business, with a thriving multi-billion dollar industry in identifying, recruiting, assessing and developing leader talent.
So then, what "does it take" to be an effective leader; and are leaders "born" or "made?"

Well, we know that effective leaders are born to some extent, with genetic and dispositional tendencies that are a "good fit" for the role. More important, they are also made through life experience and formal developmental efforts. Successful leadership means effective decision making and priority setting in uncertain environments, even in the face of economic and technological change; all this while balancing a myriad of often conflicting demands from their subordinates, bosses, and customers.
On the "leaders are born side" we know that extroversion, conscientiousness (i.e. planful, achievement-oriented, reliable, persevering), openness to new experiences, emotional stability, and general intelligence all contribute to a foundation for leadership effectiveness. These characteristics have been shown to be helpful across organizations, sectors, nations and organizational levels, and are often the focus of formal questionnaire-based assessments of leadership potential.
On the "leaders are made side", in-born characteristics make it easier and more natural to seek out experiences that build a repertoire of leadership competencies. These include the development of written and oral communications skills, the confidence required to inspire and influence others ("charisma"), social adeptness and cultural intelligence. These talents are most often measured through interviews and simulations of typical leadership tasks (e.g. conducting a mock performance review, conducting a coaching session; prioritizing and delegating a set of projects; making an inspirational speech; and resolving scenario based management dilemmas).
So, putting the "born" and "made" side perspectives together, people who are conscientious, extraverted, open to new experience, emotionally stable, and intelligent (quick to learn) also tend to proactively seek out competence-building experiences. This happens through formal education, such as the MBA, targeted leadership development workshops, and accumulated career-building work experience.
In terms of new and contemporary ideas on leadership character, recent work with my co-investigator Dr. Gordon Wang has identified several virtues that predict both leader effectiveness and employee well-being:
Prudence
Temperance
Justice/Fairness (politics kept to a minimum!)
Humanness
Courage
Truthfulness
We believe that while individuals are born with varying inclinations toward these virtues, only through practicing the virtues daily, and across situations, do they become habit forming and an ingrained part of one's character. Our research is now focusing on character development interventions in leadership.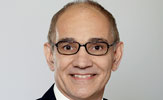 Dr. Rick Hackett is a professor of Human Resources & Management at DeGroote and currently holds the Canada Research Chair in Organizational Behaviour and Human Performance. Dr. Hackett is studying the links between leadership, work attitudes and performance within the nursing profession.