Balancing Academics and Athletics: Alex Cheng's Journey as a Varsity Athlete and Mentor
June 7, 2023
| Hamilton, ON
Contributed by Natalie Plechinger, Communications Assistant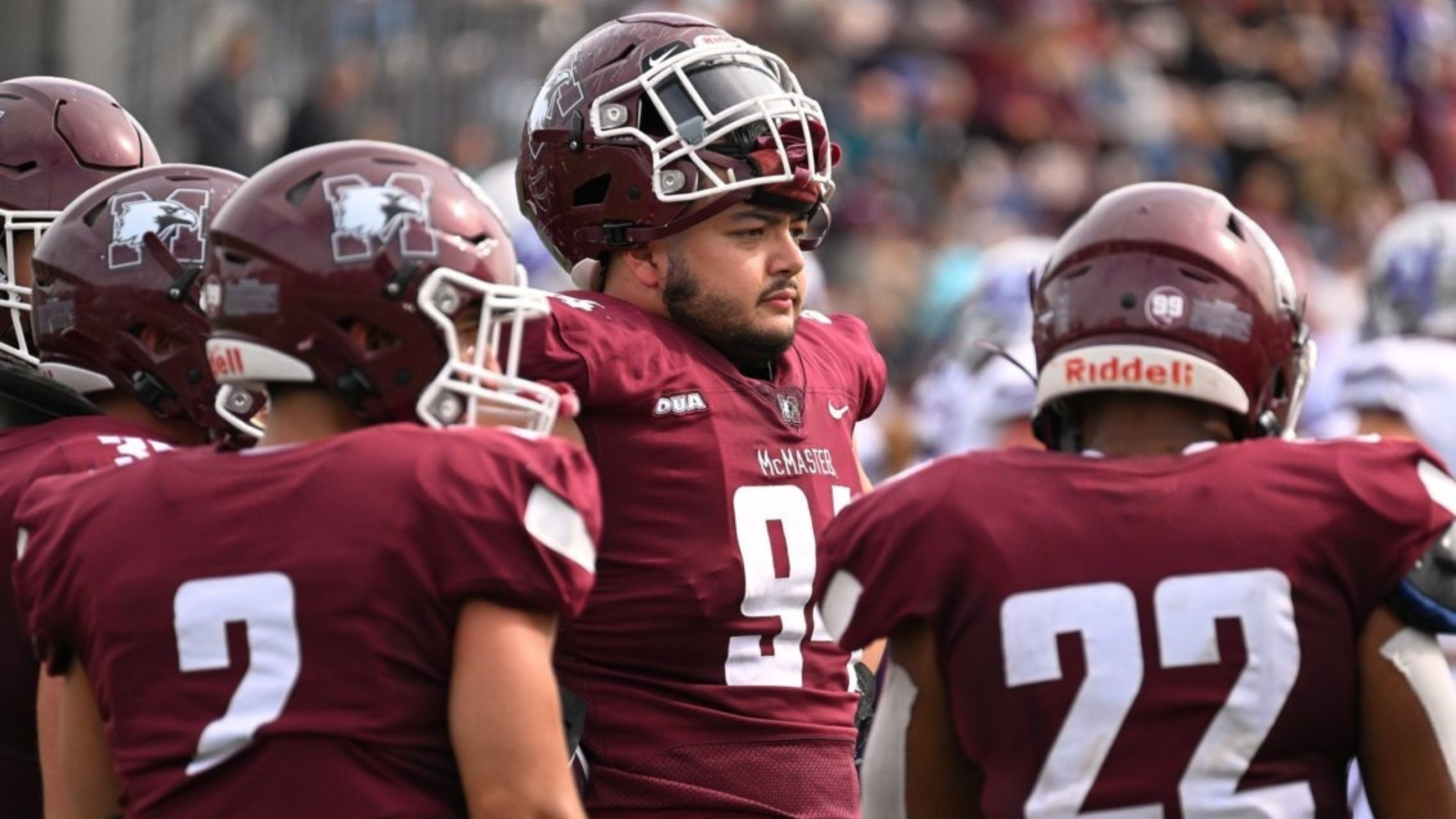 Since the age of nine, Commerce student Alex Cheng was dedicated to the game of football, earning him a spot on McMaster's varsity football team. With the rigorous schedule that comes with being a student-athlete, Alex was able to successfully find balance and excel in both his academic and athletic ventures. As a high-achieving student, and two-time recipient of the Provost Honour Roll, Alex was awarded the Dr. Jack Kennedy award for his demonstrated excellence, academically, athletically, and within the community for the 2021-22 academic year.
"A lot of the time I think it's perceived that being an athlete and a student don't necessarily go hand in hand – you're either an athlete or you're a student. The fact that McMaster has an award to celebrate those who want to pursue both athletic and academic excellence is important to me."
"To be the individual who receives this honour validates my hard work, hours spent studying, and the blood, sweat, and tears on the field."

---
In addition to being a dedicated student and athlete, Alex also acts as a mentor for first-year student-athletes, helping them seamlessly make the daunting transition into university – a program he found invaluable when he was a mentee. "It gives first years the outlet of somebody to trust, especially when you're dealing with the strains of being a student-athlete. You've got a million different things on your plate, all these things can pile up, and it can really put students in a tough spot."
"I think that first-year mentors are huge for ensuring that our student-athletes find success early on, so that they're set up with the skills to know how to succeed throughout their time at university."

---
Alex's involvement in the McMaster community doesn't end there. He also holds the chair position on the Asian Pacific Islander Athletes (API) committee at McMaster, which strives for API representation within the various varsity sports teams. Ensuring there are role models for the next generation of athletes is important to Alex. "American football is not a super traditional sport for Asian people. But for those kids growing up who aren't sure whether football is for them, they can see somebody like me or any of the other athletes at McMaster who are of API heritage succeeding at the university level."
"My hope is that it inspires them to chase their dreams and not let somebody else dictate what they can and cannot do."

---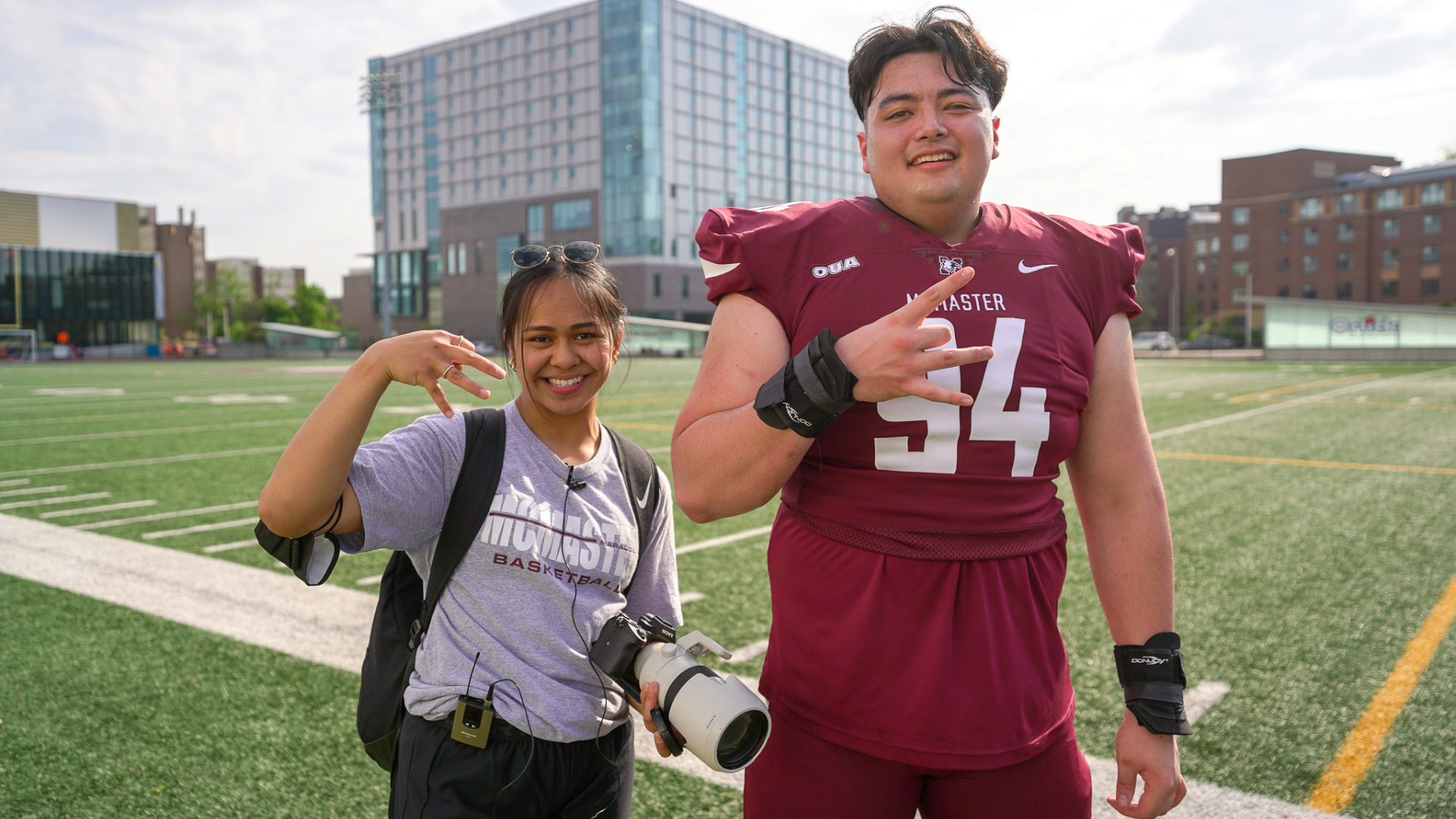 Growing up as someone of API heritage in London, Ontario, representation of athletes who shared his ethnicity was not common. But with the support of his father, whom he credits for getting him into the sport, Alex grew his love for football.
"For me it was all about my dad. When he moved here from Hong Kong as a student it was kind of tough for him to fit in; as someone who was adapting to a different culture, football became a way to connect with his peers. He fell in love with the sport, and his love continues to this day."

---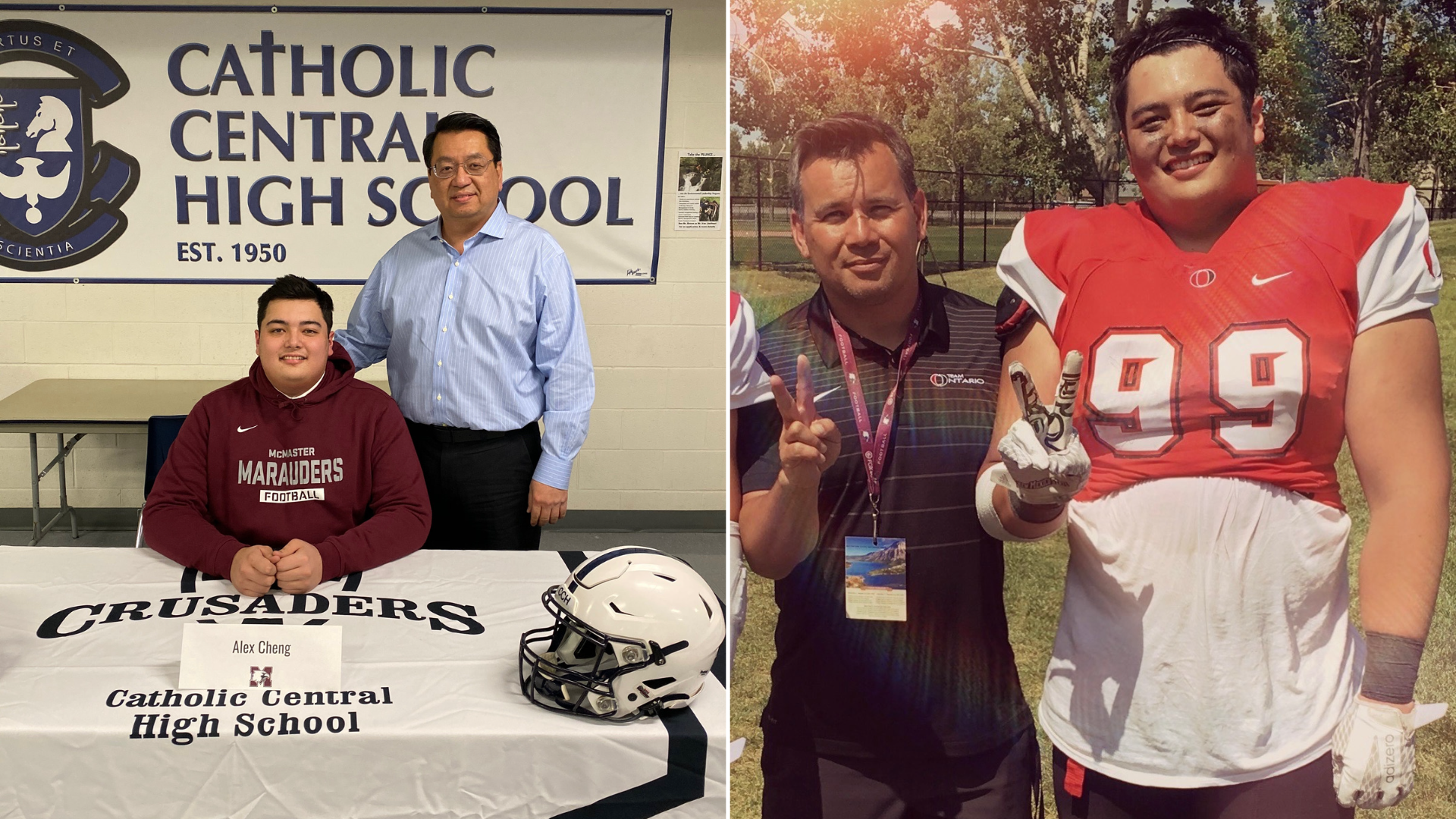 Alex secured a business tax analyst internship with Deloitte by using the resources offered within the DeGroote Career and Professional Development (CPD) team. In this role, he is able to combine the knowledge taught in his classes with the teamwork and dedication learned on the football field. "In the business world there's very few individuals who go at it alone, and even fewer individuals who find success alone. I think that's something that everybody can learn from sports, even if you're not an athlete yourself."
"It takes more than just one person to succeed. No one person can run a company by themselves. No one person can play a football game by themselves. That teamwork and that camaraderie is something that is necessary both in sports and in business."

---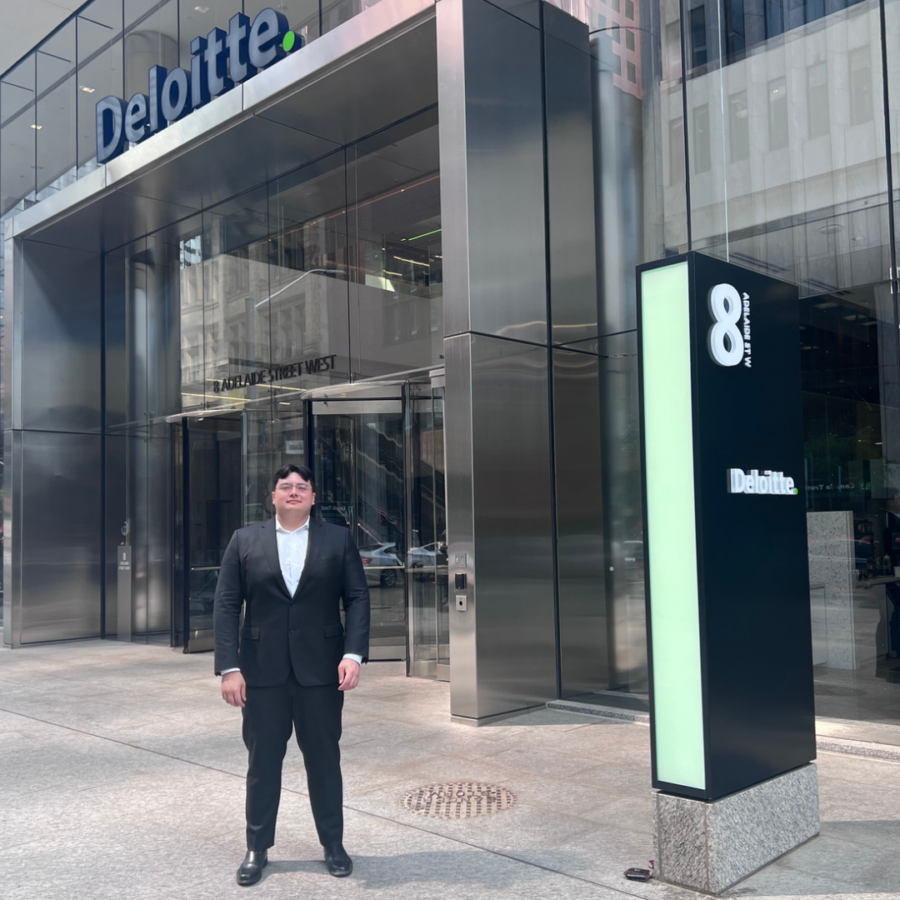 With all the success that Alex has had on and off the field, he credits it to having a strong support network and organizational skills. Alex is reminded that although they are student athletes, academic success takes precedence. "Coach Ptaszek and Coach Brady, they're huge into making sure that we're reminded that we're student athletes with the keyword there being student comes first." The support shown by his friends, family, coaches, and professors, in addition to ensuring that he stays organized and is not constantly chasing deadlines, has allowed him to excel in whatever endeavor he puts his mind to.
"It's not just about the individuals you see on TV or read about, it's about everyone around those individuals who helped them find success."

---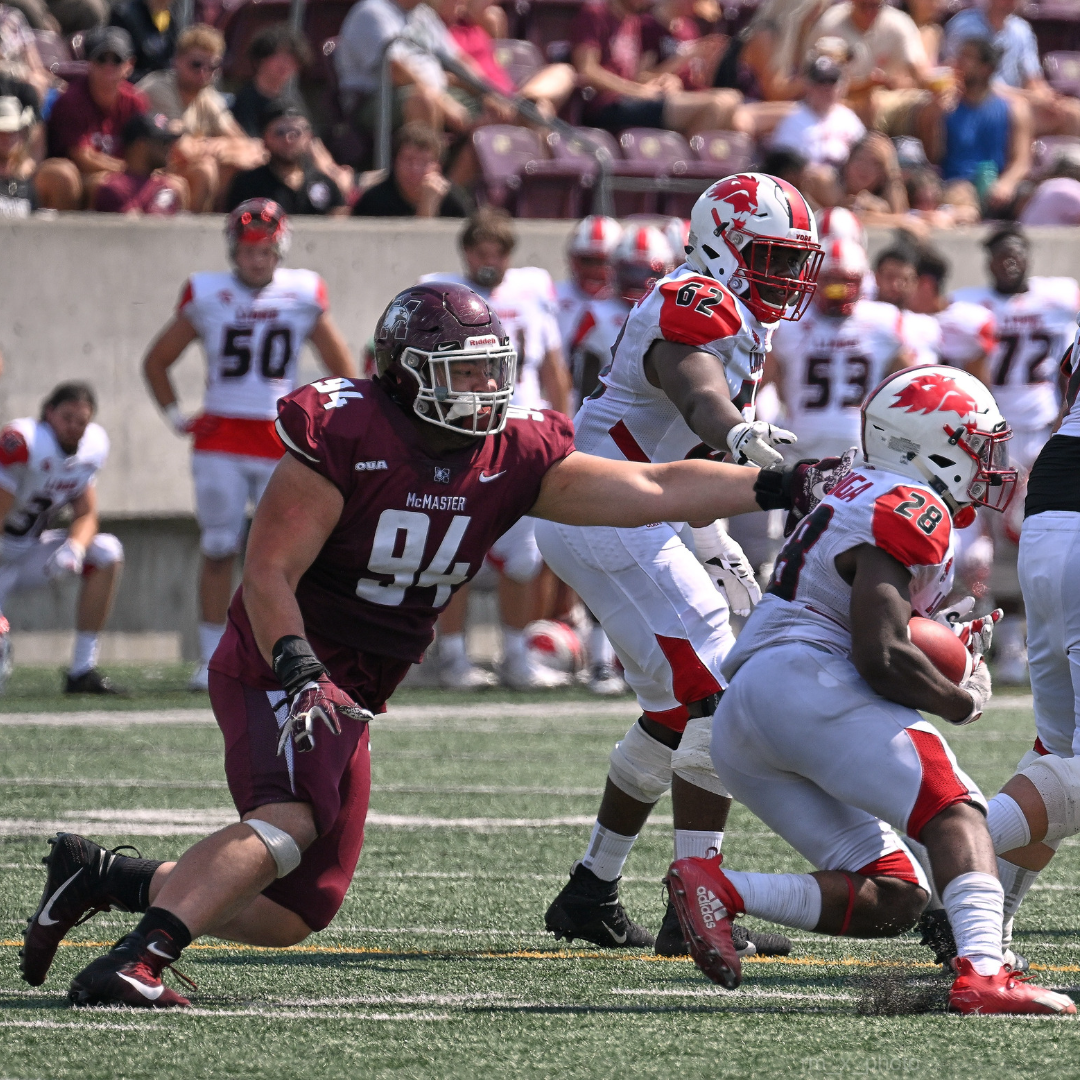 Football is a true passion for Alex. Every time he puts on his Marauders jersey Alex is proud to be representing McMaster, a surreal feeling that he is honoured to experience.
"When you put that helmet on and you get yourself in the zone and you're ready to go out, and then you walk on the field – it's indescribable. You stare up into the crowd and you see people you know from classes, you see your friends, you see your family from home, all these people are ready to cheer you on. And there's really nothing quite like it that I've ever experienced."

---
Alex is Chair of the Asian and Pacific Islander Athletes at McMaster University, in this student-athlete story, he talks about what it means to be an API athlete and how his heritage shapes how he plays the game of football.