Co-op Placement Reignites MBA Student's Passion for the Environment
April 20, 2022
| Hamilton, ON
Contributed by Izabela Shubair, DeGroote Contributor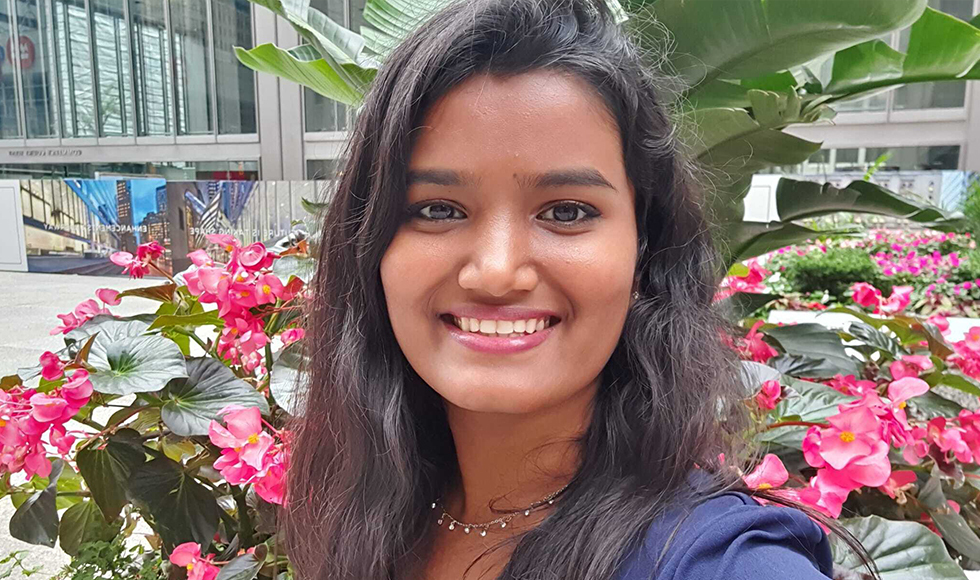 Whenever DeGroote Master of Business Administration (MBA) student Manali Kulkarni's mom helped a young Kulkarni with homework, she weaved in environmental teachings. Those early lessons made Kulkarni aware of urgent issues such as climate change and global warming. When she got older and completed her Bachelor of Technology with a biotechnology concentration, Kulkarni's focus turned to healthcare. Her career path seemed set. Then she enrolled at DeGroote, where Kulkarni found herself unexpectedly reconnecting with her environmental passion and setting off in an entirely new career direction — one that's been solidified by a unique co-op experience.
"During our MBA Foundations programming, we were asked, 'What is your leadership style, and where do you fit in in the world?'" remembers Kulkarni.
"This led me to think about myself and what I want from my career. I came into the program thinking I would work in marketing in pharma. But I realized that while healthcare helps people, I wanted to work on a cause that helped people and that I also felt truly passionate about."

---
As the program progressed, Kulkarni started looking ahead to the first of her three co-op placements. While DeGroote students work with the Career and Professional Development (CPD) team, they are responsible for securing their own placements. Kulkarni set her sights on an unconventional employer host: Greenpeace Canada. The independent campaigning organization uses non-violent, creative confrontation to expose global environmental problems, and to force solutions.
"MBAs don't typically go to non-profits, so I couldn't find anything on job boards" she says. "I contacted the Greenpeace Canada's Director of Fundraising on LinkedIn to ask about fundraising in non-profits. I wasn't going to ask for an internship but when he mentioned he previously worked with a DeGroote intern at another organization and had high expectations of DeGroote students, I decided to act. I wanted to give him something substantial to show my skills. I developed a PowerPoint presentation to illustrate how Greenpeace could improve its fundraising 'thank you' emails."
With the help of DeGroote's CPD team, which Kulkarni says worked tirelessly to support her during her co-op experience, she refined her presentation and landed the placement. The experience as a Greenpeace Digital Fundraising Intern was both an opportunity to apply what she learned during the program, and to bring new knowledge back into the classroom.
"Much of our MBA work involves case studies and how to analyze various situations to develop critical thinking and problem-solving skills, which helped me tremendously in my internship," says Kulkarni, who was tasked with improving Greenpeace's peer-to-peer program.
"I also got to give presentations to the fundraising team and developed my presenting style, which has made my presentations in my classes much better. I turned theoretical knowledge to practice, and I am now taking practical knowledge and using it with theory."

---
Kulkarni's efforts — from her initial groundwork of illustrating her value to Greenpeace to the impact she made on the organization during her co-op — resulted in her securing another co-op placement. This, she says, wouldn't have been possible without a CPD team member's apt advice.
"I had reservations about asking Greenpeace if I could return for my summer co-op," Kulkarni says. "But a CPD team member encouraged me to speak to my superior rather than assuming or guessing what they might think. It was such simple advice but it helped me clear my head a bit, and I asked. It's the reason I have a summer co-op now. DeGroote's support really makes a difference."