Day in the Life with Christine Peral

How was your MBA orientation experience?
I was pleasantly surprised with my orientation experience, especially since I wasn't quite sure what to expect. My only reference to an academic orientation was Frosh week. It was so many years ago that it's somewhat of a blur to recall. Compared to that vague memory, we are now in a much more digitally advanced era, accelerated because of the pandemic. Like the 2020 cohort, the 2021 DeGroote Blended Learning Part-Time (BLPT) MBA class starts off remotely.
It's nerve-wracking to virtually meet 60 new people at once while learning more about DeGroote and its academic platforms, services, and support systems. Shortly after receiving my acceptance letter in March, there were a handful of webinars and a LinkedIn group set up for my class. As a result, I began to feel comfortable with this new beginning and start networking online. However, it wasn't until a few days before orientation that I really got to form meaningful connections with some classmates.
How do you build connections online?
We needed to connect with our assigned groups for the Fall term before orientation because we had to prepare a 3-minute presentation for orientation weekend. Although we had short notice, it forced our groups to connect and work together primarily through Zoom and WhatsApp. We shared lots of laughs and bonded. Although I might be a little biased, I think our presentation ranked top three in our class. Having to connect and work together let us set expectations and test the waters before completing several heavily graded assignments together. It also gave us a support network to ask questions and reach out to about anything in the syllabus or just share friendly banter.
We also virtually traveled the world together with our groups through MapDash, a virtual team-building game during orientation weekend. We tested our trivia knowledge, agreed on which answer to choose and played around with Zoom backgrounds and filters for photo props. It was engaging to work closely with my teammates, which made orientation a pleasant surprise for me.
Why did you choose the BLPT MBA program?
I chose the DeGroote BLPT MBA program because it'll allow me to continue advancing my career while also growing my professional network. I will work with people I likely never would've had the opportunity to associate with otherwise. It is rarely possible to connect meaningfully with individuals who've taken different paths in their education and careers but also share similar goals. There are even a handful of students from Ottawa and Montreal. This demonstrates how this learning model expands your network because students aren't geographically tied down.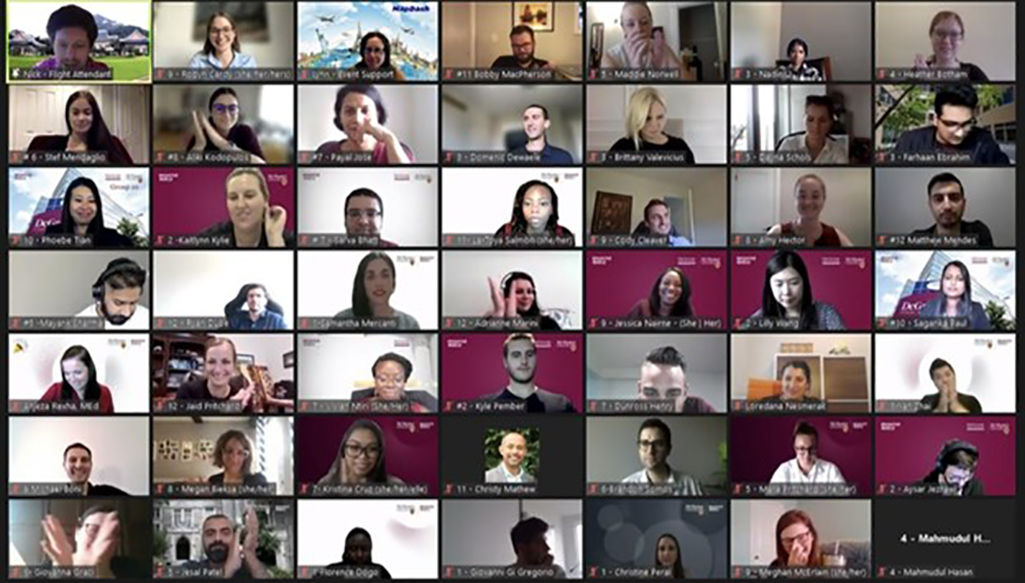 In addition, DeGroote offers the program in a blended learning format, where I can immediately tailor what I learn to my current role at Shopify. I can focus on building on my leadership, people management, and project management skills. During orientation, we were given tips and tricks to effectively present by Dr. Brynn. She recommended committing what I need to communicate to memory, looking directly into the camera when presenting, and smiling. Classes haven't even started yet, and I am already learning new ways to conduct video calls with stakeholders that will positively impact how others perceive me.
Lastly, the BLPT curriculum offers critical courses in all businesses. My professional background is in technical writing, which is transforming software knowledge into plain language as a strategy for increased adoption of a product or service. I intend to leverage my experience in technical writing to compliment the skills that I develop through DeGroote's MBA.
Who supports you throughout your life and is actively engaged in your success?
Funny enough, my number one fan is my mini-doodle, Kaya. Shopify is digital by default, meaning that I'll be working remotely indefinitely. In addition, a bulk of the BLPT program is also remote. This means that my time at home has exponentially increased because I no longer need to commute or leave the house as often.
With my laptop at arm's length, it's easy to become overly focused on work or school. Although Kaya naps throughout the day, she makes sure that I stick to a schedule, enjoy my lunch, and go out for short walks every now and then. She's exceptionally sociable, asking for belly rubs from anyone, giving me the chance to engage in small talk with strangers. She also keeps my Apple watch happy because I get closer to my stand and step goals when she's around.
Kaya is always happy and ready to cuddle, and her presence makes me smile, even on not-so-good days. She's also a funny girl and keeps me entertained as I try Tik Tok trends with her (you can follow her on Instagram or TikTok). Kaya finds gratitude in the smallest of things, which in turn has made me more appreciative of everything that I've accomplished and have. By seeing things from the perspective of man's best friend, you remember what's truly important. For me, that perspective has had a direct effect on my success.
What's the most interesting thing about you that we wouldn't learn from your resume alone?
In the spirit of saying yes, I am a firm believer in trying new things, especially if they scare you. For example, I got my scuba diving license not because I wanted to scuba dive but because open water and those living in it horrified me. When I went scuba diving in Thailand, a turtle, two sharks, and hundreds of fish passed me. However, scuba diving in open water made me less scared of swimming in the ocean and more accepting of the underwater world. Some of my most memorable and noteworthy experiences are when I went way out of my comfort zone and conquered a fear.