Day in the Life with Alissa Smith

How do you balance playing a varsity sport with pursuing your MBA degree?
Playing on the women's basketball team while pursuing my MBA is one of the most challenging but rewarding experiences I have ever pursued. I absolutely love what I do. It is always exciting to step on the court, even though balancing the MBA program and basketball can be difficult. I played college basketball during my undergrad years in the NCAA, but playing a sport as an international graduate student is another level of difficulty. In addition, MBA courses are quite demanding, so I find myself spending more hours studying than I did in undergrad. The most important lesson I have learned is to keep a written calendar listing every due date, exam, and athletic event to balance my time!
During the school year, my schedule is packed. My typical day starts with morning weights or shoot-around, followed by classes for the day, and immediately heading to film and practice in the evenings. My late nights are reserved for study sessions, group work, and completing coursework. Fridays and Saturdays are game days, with the occasional Wednesday game throughout the year. Once the season officially kicks off in November, my calendar will become my best friend to stay on top of my studies while traveling for games throughout Ontario.
For me, balancing academics and athletics is a challenge, but it is not impossible. Balancing my commitments requires a ton of passion, dedication, and planning. You truly have to love what you do every day to avoid burnout.
Being a graduate student-athlete is incredibly rewarding because I have two fantastic support systems in the MBA program and across the athletic teams. My coaches and teammates have become my family away from home. My MBA classmates have become amazing friends, and the DeGroote faculty are always there to cheer me on!
How would you describe the importance of leadership in business?
I believe leadership can make or break a business. Outstanding leadership empowers employees to do their best work and be proud of their growth. Leadership comes from every employee (yes, even interns!) in the best companies and does not solely come from the CEO. My leadership style encourages others to fully accomplish the task independently while always remaining an available resource should they need it. This is the type of leadership I have experienced from managers throughout my professional career. I believe it is one of the most effective ways to empower all employees without being overbearing.
How has COVID-19 affected you as an MBA student?
Pursuing an MBA during a pandemic is definitely not what I or any of my classmates envisioned for their first-year experience. Before classes started, I was worried about how an MBA online would work. However, after the first month, it was evident that DeGroote was putting a great deal of effort into planning the program. They took the time to ensure that everyone in the MBA program was getting to know each other and obtaining value from each class. I made amazing friendships over Zoom with people I had never met in person. My cohort hosted Zoom game nights and social events throughout the year that was a blast! All of the professors rose to the challenge of online courses and found creative ways to make class interactive.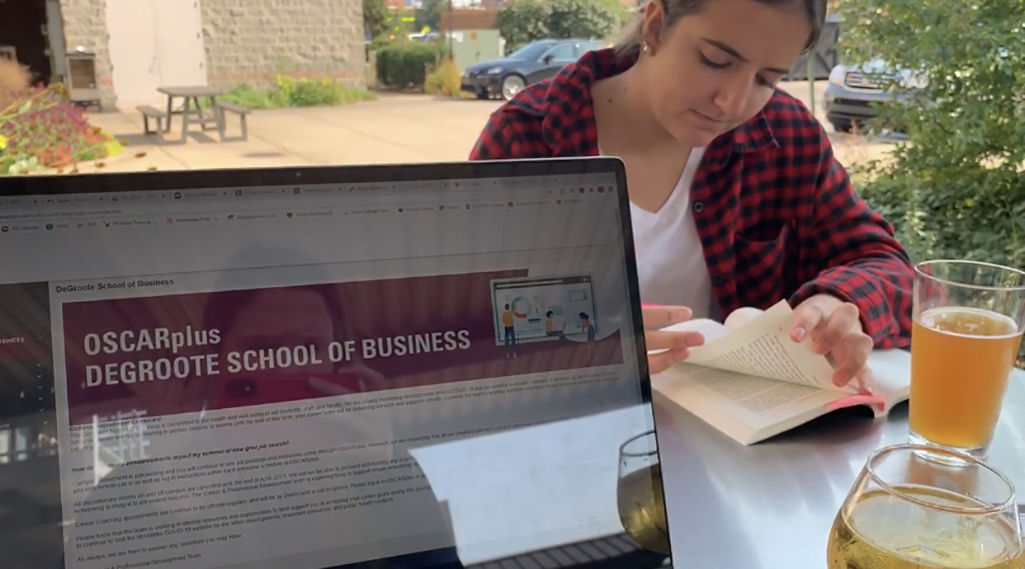 One of the positive aspects of being a student during COVID-19 was the ease of bringing in great speakers to class. Since everyone worldwide was working virtually, it was easier to bring accomplished speakers and executives to the class. In addition, I found more people were willing to jump on a quick Zoom call for a Q&A session.
Now that the world is starting to return to normal, the pandemic has changed how I view my friendships. I have learned to value and appreciate the people around me more after not seeing many of my friends in person for most of the pandemic. I am also excited to return to on-campus classes and meet more of my fellow MBA classmates in person!
What is something that inspires you to succeed as a student?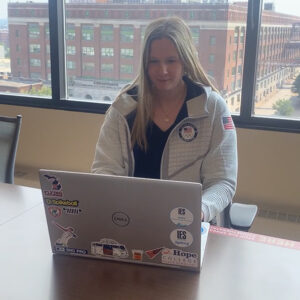 Experiencing my personal growth both professionally and academically is what inspires me to succeed as a student. With each new course and internship experience, I learn more about myself, my interests, and leadership style. I love thinking back over the years and comparing how far I have come regarding my studies and work portfolio. This growth is what motivates and inspires me to accomplish my career goals!