DeGroote Alumni Inducted into 2022 McMaster Alumni Gallery
June 6, 2022
| Hamilton, ON
Contributed by DeGroote School of Business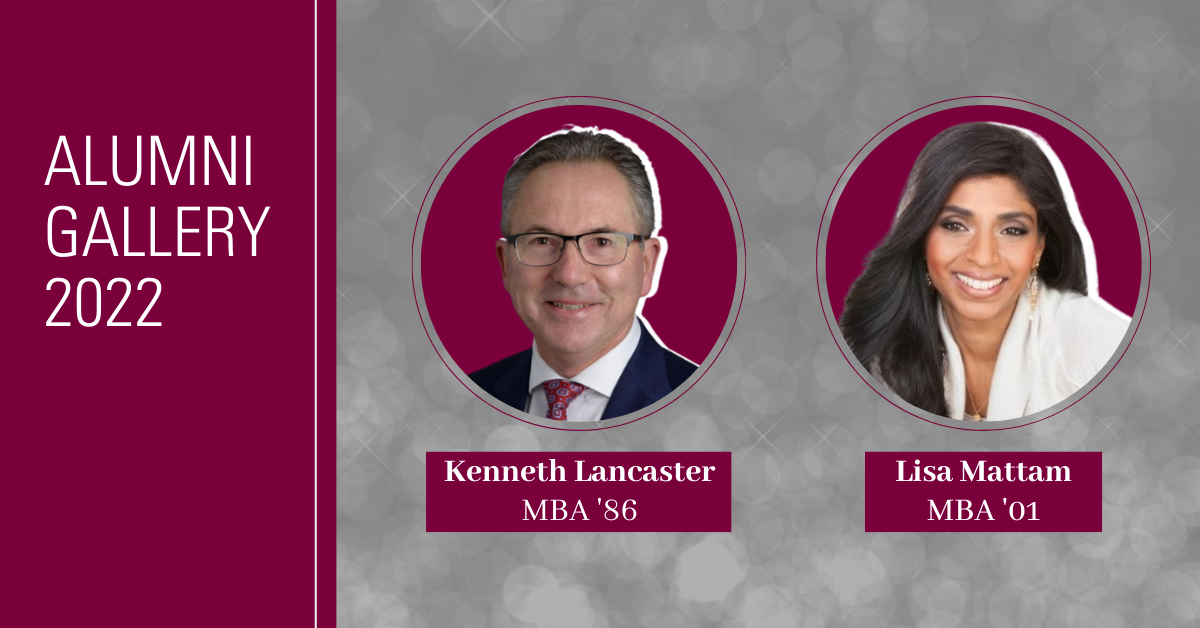 Inspirational, interesting and accomplished. These are just a few words that describe inductees to the Alumni Gallery. Over the past 40 years the McMaster Alumni Gallery has recognized individuals who lead interesting lives and make outstanding contributions to society.  
In 2022, two DeGroote alumni join the over 450 McMaster alumni named to the Gallery. Congratulations to Kenneth Lancaster and Lisa Mattam! 
Kenneth Lancaster, MBA `86
Now a financial planner with RBC Dominion Securities, Ken graduated from McMaster into a career in accounting. While his father had worked in the field with Revenue Canada, Ken had no ambitions to follow in his father's footsteps until an aptitude test identified his suitability for the profession. Ken recognized the wisdom of the test results immediately and was soon on track toward a career that would see him become a tax partner with Grant Thornton and a Fellow of the Chartered Professional Accountants of Ontario.  
In assessing the abilities that have served him well professionally, Ken claims, "I would say it comes down to problem-solving. I took two very unrelated degrees at McMaster. What I got out of both degrees was the ability to problem-solve. I think that goes to the fundamental aspects of the teaching philosophy at McMaster. … The ability to apply that educational training I got at McMaster has been awesome for me."
Ken has also deployed those skills as a dedicated Hamilton-based volunteer. He has contributed his accounting and business expertise to organizations including the Canadian Tax Foundation, Hamilton Chamber of Commerce and the Estate Planners' Council of Hamilton while also giving back to the local golf community as a board member of the Hamilton Golf & Country Club Foundation, as chair of the Hamilton/Halton Junior Golf Tour Association and as a volunteer with Golf Ontario. A long-time member of the board and treasurer for Habitat for Humanity Hamilton, Ken has also been a long-serving board member for the Catholic Children's Aid Society of Hamilton where he was chair of the board for two years. 
Ken hopes that his new membership in the McMaster Alumni Gallery helps highlight the kind of influence people can have in their communities through volunteer work like his.  
"I hope this raises a little bit of awareness of how important our charitable organizations are in our city and in our collective local communities. Hopefully it will provide some inspiration to a young student at the University embarking on their career and they can see the impact that people have through volunteering and giving back to their community."

---
Read Kenneth Lancaster's full story here. 
Lisa Mattam, MBA `01
Lisa Mattam graduated from McMaster with degrees from the Faculty of Science and the DeGroote School of Business, but to her, the biggest lesson she learned at McMaster wasn't necessarily part of the curriculum. "Probably the best experience that I took from my journey at McMaster is really a story of resilience," she says, speaking as a member of the 2022 McMaster Alumni Gallery induction class. Starting in science with an eye to becoming a doctor, Lisa realized early on that she was not on the right path for her.  
"I knew in my heart pre-McMaster that medicine wasn't going to be the destination … So the MAC experience, not only navigating the classroom, but meeting other people and exploring other opportunities opening my perspective and really challenging myself, helped me find my path. It also really taught me how to be resilient, taught me how to navigate through a world that I would eventually face as a businessperson."

---
Two decades after graduating, Lisa is a business innovator and serial entrepreneur who has been named by Profit Magazine as one of the Top Ten Emerging Women Entrepreneurs in Canada and recognized by the Indo-Canada Chamber of Commerce as Female Entrepreneur of the Year. The foundation of that success is The Mattam Group, an international consulting firm that equips organizations including Fortune 500 companies with the tools to advance diversity in the workplace. Lisa's entrepreneurial spirit also extends to Sahajan, an evidence-based natural skincare line she founded. That venture led to honours including being named Entrepreneur of the Year by The Atelier. Then, earlier this year, Lisa and her team launched AccelerateHER, an early-stage accelerator for female-founded businesses in Canada.
Lisa traces the start of this path in business back to her experiences at Mac. "The majority of those lessons came outside the classroom," she recalls. "I am a joiner by nature, but McMaster was really a place where I was able to find myself."
Lisa has a long-term view of the way this recognition from her alma mater fits into her life. "Because the experience of McMaster was so important, because it was fulfilling and purposeful, it brought me a journey but also a destination," she says. "It also brought me my best friends and it brought me my world view and cemented my values, so getting this [recognition] from the place that gave me that, there's nothing like it."   
Read Lisa Mattam's full story here.