DeGroote Celebrates Work Integrated Learning Month
March 23, 2022
| Hamilton, ON
Contributed by Olivia Stankovich, Web and Marketing Specialist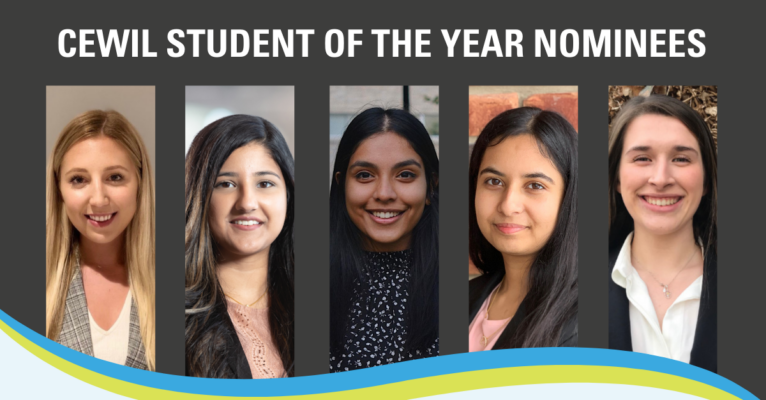 March is CEWIL National Co-op and Work Integrated Learning Month. Work Integrated Learning (WIL) is an experiential style of education that integrates a student's academic studies with quality work experiences. Students are provided the opportunity to discover new work settings to stimulate growth in their own professional development; and take the knowledge learned in class and apply it in work environment. 
DeGroote's CEWIL Student of the Year Nominees, and their employers, have shared their internship and co-op experiences.
Erin Sarfi, MBA Candidate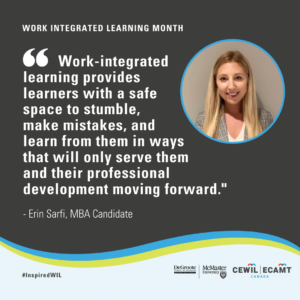 At Home and Community Care Support Services – Central West, Erin worked with the Strategy Management Office to develop documentation and presentations to push forward strategic priorities, playing a large role in the Annual Business Plan. Erin was responsible for designing the return to workplace strategy as well as compiling reports for leadership teams.
"Work-integrated learning provides learners with a safe space to stumble, make mistakes, and learn from them in ways that will only serve them and their professional development moving forward," says Erin.
Her supervisor at Home and Community Care Support Services – Central West, Trish Chatterpaul, shared that, "Erin was instrumental in developing and supporting the completion of a business case to support policy shifts at a provincial level, which will make a positive impact to the implementation of future models of care within the health system."
Pawan Pannu, MBA Candidate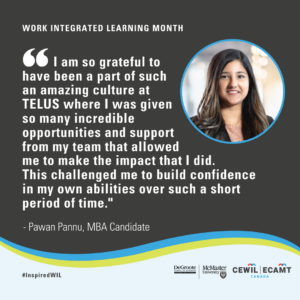 At TELUS, Pawan was responsible for designing the return to workplace strategy as well as compiling reports for leadership teams.
"I am so grateful to have been a part of such an amazing culture at TELUS where I was given so many incredible opportunities and support from my team that allowed me to make the impact that I did. This challenged me to build confidence in my own abilities over such a short period of time," says Pawan.
Her detailed presentation included findings and recommendations to best position a department's "return to office" in a post COVID-19 era. This report became a foundational component of TELUS' corporate wide return to office strategy, potentially impacting more than 40,000 employees nationwide.
"Pawan was considered as extremely hardworking, dedicated and adaptable. Her recognized efforts and contributions coupled with her collaborative and engaging approach reflect solid professional capabilities and significant additional potential. She has set a new standard for future Co-op students," said her supervisor Brad Samis.
Simran Chhatwal, BCom Level IV
Honourable Mention; CEWIL Student of the Year awards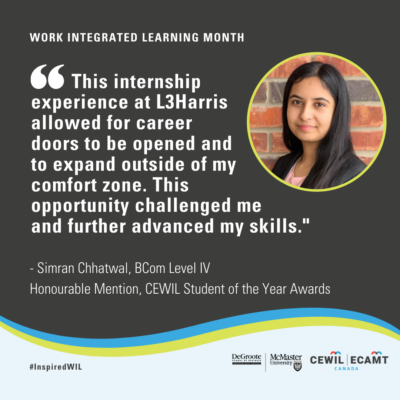 At L3Harris, Simran was the Learning Coordinator and Administrator, a position normally filled by a permanent, full-time employee. 
"This internship experience at L3Harris allowed for career doors to be opened and to expand outside of my comfort zone. This opportunity challenged me and further advanced my skills," says Simran. 
She implemented the Learning Management System for the 1,300 employee business unit and in the months following established best practices to be shared with a wider organization of 47,000-employees.
Her supervisor at L3Harris, Steve Lord, remarked that, "Execution of basic job tasks was flawless, as Simran has [a] high attention to detail combined with self-checking practices. Already analytical, Simran further developed not only this strength, but learned to add her contribution in a quiet, but confident manner amongst learning professionals senior to her in age and experience. Due to Simran's capability, the organization made a place for Simran to continue employment."
We're thrilled to announce that Simran received an Honourable Mention in the CEWIL Student of the Year awards. 
Christina Dominic, BCom Level IV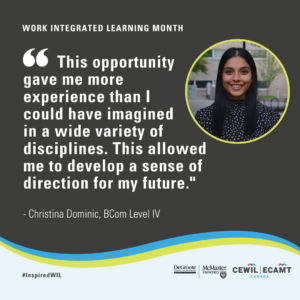 At Jaguar Land Rover, Christina was responsible for supporting the achievement of their annual parts and accessory sale revenue and net profit objectives, liaising with contacts in the US and UK. 
"This opportunity gave me more experience than I could have imagined in a wide variety of disciplines. This allowed me to develop a sense of direction for my future," says Christina. 
Eventually, she assumed responsibilities beyond the original scope of her work to assist in covering the 3-month paternity leave of a member of the management team, taking over day to day management of significant programs. 
Her supervisor at Jaguar Land Rover, Sean Campbell, said, "Christina's efforts ensured a smooth transition with no impact to our customers. She has an engaging yet direct style of communication that will serve her well through her career."
Michaela Doherty, BCom Level IV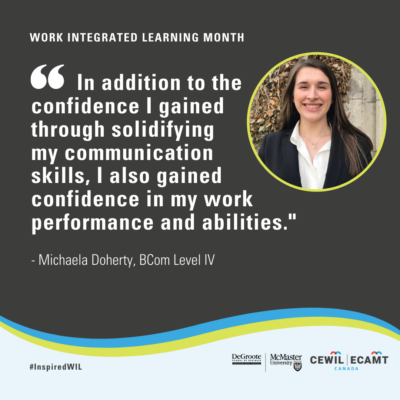 At L3Harris Wescam, Michaela acted as the Return to Vendor (RTV) Coordinator, working closely with several departments in the organization and developing time-saving process improvements. Her duties grew to support the role of RTV Subject Matter Expert (SME), supporting Senior Buyers in the complex process.
"In addition to the confidence I gained through solidifying my communication skills, I also gained confidence in my work performance and abilities," says Michaela.
Based on professionalism and ability to go beyond expectations, Michaela was transferred to the role of Electronics Component Buyer, a role historically held by a full-time buyer. As the youngest buyer in the company, she was able to take on all the expected responsibilities of the role.
"Michaela's professionalism, attention to detail, and output, did not waiver as L3Harris Wescam and the world learned how to cope with Covid-19. Michaela's transition from being full-time in the office, to part-time, to working fully from home was met with resiliency," said her supervisor John Papalia.
Interested in pursuing Work Integrated Learning during your degree? DeGroote's Career and Professional Development team is available for support and guidance.