DeGroote Takes First Place at the Danaher International Case Competition
December 22, 2021
| Hamilton, ON
Contributed by Joanna Williams, DeGroote Writer
DeGroote MBA students Abhinav Bhatnagar, Tatjana Caron, Alex Hua, and Brandon Kober are the winners of the 2021 Danaher International Case Competition, hosted by John Hopkins University.
The competition, hosted virtually, focused on the rapid growth of at-home Covid-19 testing and issues relating to effectiveness, efficiency, and inequities to access. Competing teams proposed a business model where routine lab tests are performed at or close to home and include digital tools to connect providers to patients, methods to send test results directly to a patient's health ecosystem, and an evaluation of the impact the model has on under-served populations.
Coming Up Against the Odds
In addition to being one of the youngest teams in the competition, as Canadians needing to dive deep into the American healthcare system, the odds were stacked against them.
"I think every disadvantage is also an opportunity," says Alex. "When you're in a time crunch, that adrenaline keeps you going, and it pushes you to achieve something great in such a short amount of time."

---
Bringing a Canadian Perspective to the Case Competition
"We knew nothing about the American healthcare system," explains Tatjana. "We really took on the perspective of 'let's take all the things we like from the Canadian system, which is giving patients options, and let's bring that to the States.'"
Their approach was simple, how can virtual care and medical diagnostics be brought closer to patients.
Their approach to the problem was not limited to what had been done before. They took away any imitation and thought about solutions based on how the system should work.
"I imagine for someone entering perhaps even with an MD or with a PhD, years of experience interacting with the American system and all of its complications and potential flaws, perhaps their solution would have been to adapt and work within the existing system," explains Brandon.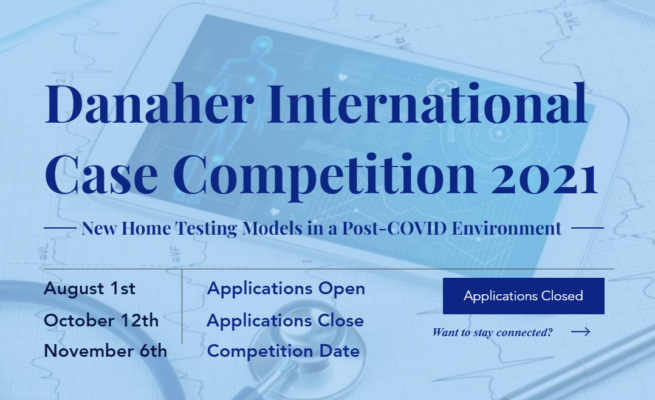 Disrupting the Existing US Healthcare System
Their presentation, titled Digital disruption: Helping bring medical diagnostics closer to patients, foreshadowed the big changes they had in mind.
"We took inspiration from our favorite things like Uber, Google maps and calendar," says Tatjana. Their idea was to bring medical specialists closer to patients in their home using a mobile device. For the team, it was about bringing an innovation mindset and coming up with a solution they call the 'Uber for medical diagnostics'.
"I think that sometimes when you're working on health care problems it's so complex that people might just go with the simple solution because there's so much to navigate," explains Abhinav. "It was about disrupting how things work. The judges really admired that piece of it, that we were open about this being a big change management effort. Rather than shying away from the fact that this is a difficult problem to solve, we went straight for it."

---
Using a Values-Based Approach to Problem Solving
Beyond the innovative focus, their solution took a values-based approach focusing on compassion, accessibility, and safety to get to the root of the problem.
"One thing we've learned in the MBA program is to solve a problem by first creating your core values, and then use those values to benchmark against potential solutions," explains Abhinav.
They decided on the big idea – an app that links patients to doctors. Next, they figured out the commercialization, implications, and logistics. Revenue came second in their solution.
"We're always looking at key metrics, key data, looking at the numbers, essentially, without any kind of emotional context," says Alex. "Using a value-based approach, really tying back to the emotions of the audience, the judges, to get them to feel what a patient, physician, or a nurse might be feeling, and how they can all tie in together is really important."
Delivering a Patient-First Solution
The team delivered a patient-first solution as they walked the judges through the patient and physician journey.
"Health care should be about patient-centered care," says Brandon. "The priority isn't necessarily just the business model that makes money, but it's also actually delivering a service that people need."

---
Reflecting on the Experience
Tatjana describes her experience as unexpected. "I think we went into this with maybe 50 per cent confidence, and after completing it, I have 100 per cent confidence in myself and my colleagues. You don't know your worth until you start winning these types of things. It's moments like these that are really special, and I don't think any of us will ever forget."
Alex credits professors and mentors for their support, saying that his mentors "taught me a lot of the personal values of how to work in a team, being a good listener, or just trying to build on someone's idea or trying to really drive home a key message," says Alex.
The team is beyond proud of their accomplishment and proved they have what it takes to be international champions.
"We were shocked and ecstatic to have overcome our underdog status to win it all, beating out teams from some of the best business schools in the world," explains Brandon. "We are so grateful for the support and congratulations we have received so far, and are looking to the next challenge to overcome, together."

---