Developing Valuable Learning Experiences at Work
March 22, 2023
| Hamilton, ON
Contributed by DeGroote School of Business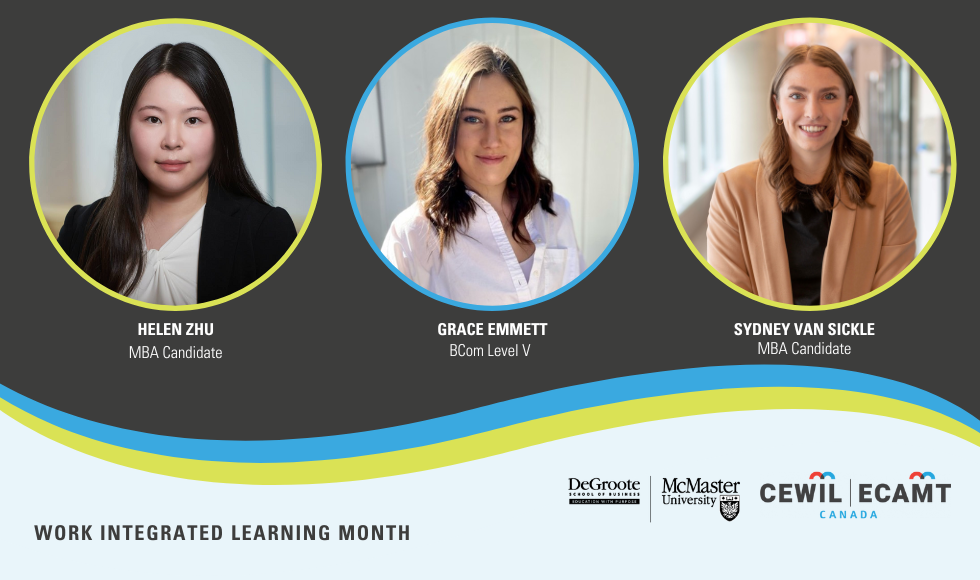 Today is the National Day of Work Integrated Learning!
Every March DeGroote recognizes students and employers that contribute to experiential learning opportunities. By participating in internship and co-op programs, students are able to make meaningful contributions in the workplace and apply their skills and knowledge learned in class to real-life situations in a work environment.
To celebrate CEWIL National Co-op and Work Integrated Learning Month we spoke with several students and employers who participated in DeGroote's internship and co-op programs.
Hundreds of thousands of students take part in work integrated learning experiences across Canada. This year, we are proud to announce Grace Emmett received an Honourable Mention from CEWIL Canada for her dedication to learning and growth.
Congratulations to all of DeGroote's CEWIL Student of the Year Nominees!
Grace Emmett, BCom Level V
Honourable Mention, CEWIL Student of the Year Award
Grace is in her final year at DeGroote and developed an interest in work integrated learning during the COVID-19 pandemic.
"The beauty of work integrated learning is that regardless of your experience, you will always glean something from it that you will be better off for," says Grace Emmett.

---
With the rise of asynchronous online learning and hybrid work environments, Grace knew the benefits of work integrated learning and their application in a competitive hiring market was something she wanted as part of her own education.
"Grace is a hard-working, detail-oriented and customer-focused individual," says Lindsay Blow, supervisor at Grant Thornton LLP. "She joined the team during the pandemic and was able to build strong relationships within the first six months of her internship, which only accelerated when our team started working together in person again. She has a natural leadership capability and never hesitated to help new team members understand aspects of the business she learned in her short time with us."
Sydney Van Sickle, MBA Candidate
CEWIL Canada Student of the Year Award Nominee and MBA Finalist
At Trillium Health Partners (THP) Sydney played a pivotal role in the Strategy Management Office. She worked on a diverse range of projects including COVID-19 policy implementation, developing an organizational maturity framework, and conducting research to inform an approach to gender-inclusive language.
"The work Sydney did was excellent, demonstrating strategic thinking, effective communication, and thorough research around best practices," says Mia Lennox, supervisor at Trillium Health Partners. "Her work translated into a novel and practical framework that we are continuing to use to anchor the organization."
After securing the role of Executive Coordinator in the Office of the President & CEO at THP, she has transferred to the part-time MBA program to complete her studies while working to support THP's mission to create a new kind of healthcare for a healthier community.
"In the role of Strategy Management Associate at THP, I challenged myself to say 'yes' to any project that came my way to soak up the last of my work integrated learning opportunities," says Sydney Van Sickle.

---
Helen Zhu, MBA Candidate
CEWIL Canada Student of the Year Award Nominee and MBA Finalist
Through her co-op experiences Helen found her passion and strengths, which helped lead her to a decision on a potential career path.
"Work integrated learning is the best opportunity to experiment with different industries and roles, discover oneself, and make valuable connections," says Helen Zhu.

---
Helen worked in the Group Risk Management department at RBC. She took on several challenging projects that required creative out-of-the-box thinking, such as the automation of multiple time-consuming manual processes, reducing the manual work needed by more than 90 per cent and increasing the quality and accuracy of the result.
"Helen is a lovely individual to work with and is positive, authentic, enthusiastic, and open minded," says Katerina Grintchak, supervisor at RBC Group Risk Management. "She is always happy to help and ready to contribute her opinion and debate for the most optimal proposed solution."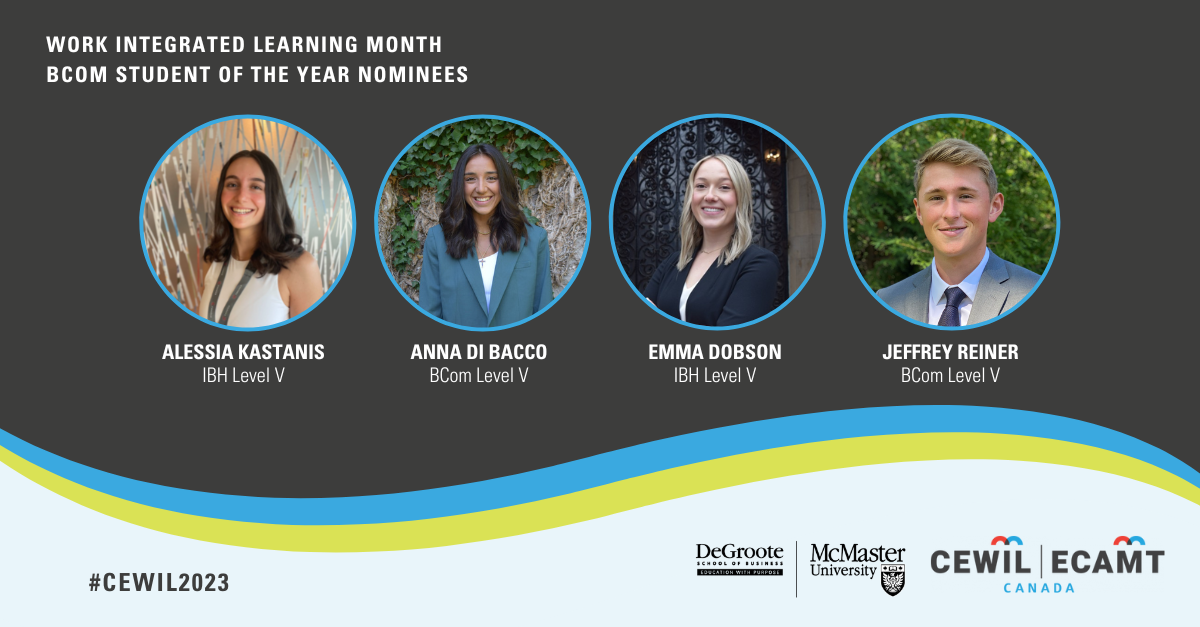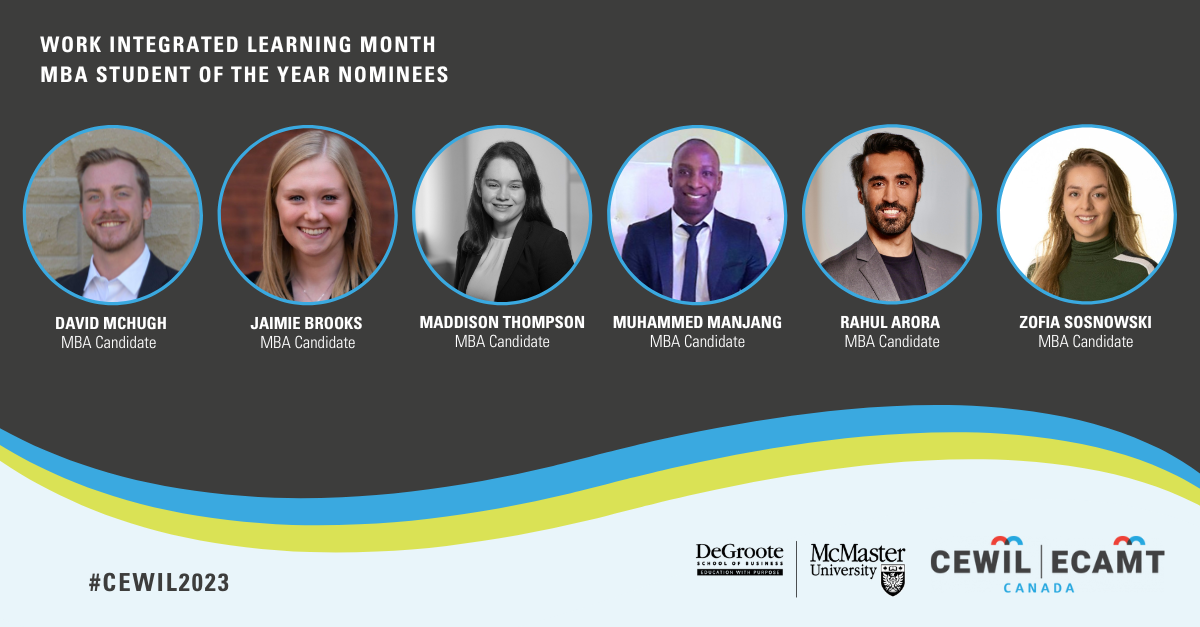 Thank you to our employer partners for providing work integrated learning opportunities for our students!