Honouring Paul Bates
September 8, 2022
| Hamilton, ON
Contributed by Khaled Hassanein, Dean, DeGroote School of Business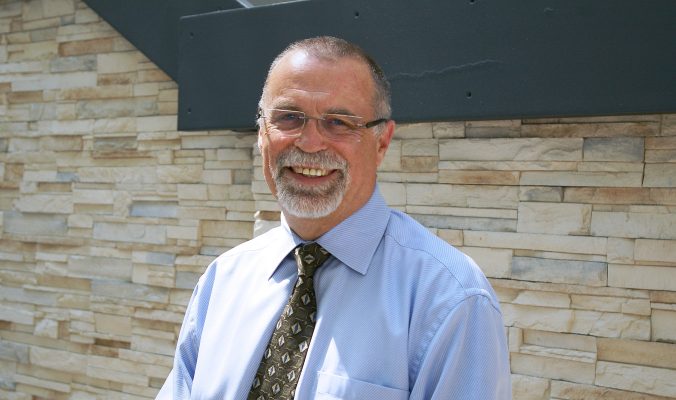 Dear DeGroote community,
It is with deep sadness that I share the news that Dr. Paul Bates passed away on Sunday, September 4.
For those who knew Paul during his tenure as dean from 2004 to 2010, you will remember him not only as a man whose thoughtful approach created community, but also as a visionary leader who transformed the School with his many contributions. Paul's connection with students reverberated from their academic time at DeGroote and their transition to members of the alumni community. There is no denying that he made an impact on the students who had the fortune to call him their dean.
Shortly after assuming the role of dean, Paul explored the opportunity to expand DeGroote's presence both physically and reputationally. He worked tirelessly to make the Ron Joyce Centre (RJC), our Burlington campus, a reality, leading the planning and development which included the groundbreaking in 2009, and grand opening in 2010. This has been a very important achievement in DeGroote's history, providing critical growth for students in the MBA and executive education programs as well as a community venue for corporate partners. Paul's support of the RJC also includes the sponsorship of the Paul and Sally Bates Interfaith Centre, a space for meditation, prayer, or quiet reflection.
He was instrumental in bringing the Canadian Journal of Administrative Sciences (CJAS) to DeGroote. Not only was this a reputational gain for the School, but also for Canadian business scholars, whose benefits include an annual award for best paper published in CJAS, which was fundraised by Paul.
Paul demonstrated an unwavering commitment to academics and the pursuit of learning. Under his leadership several new interdisciplinary programs were created, including MCM, MSc in eHealth, MSc in Global Health, and Master's in Health Management. His own credentials included MTS, FCPA, FCMA, CMC, and DPT.  Following his departure at DeGroote, he pursued graduate studies at the master's and PhD levels at McMaster's Divinity College, where he was also an assistant professor. In addition, Paul was an instructor in the Master of Communications Management program, as well as several executive education courses.
As an industry leader, Paul's career included such roles as CEO in the capital markets sector and commissioner of the Ontario Stocks Commission. He served on numerous boards and authored a number of best-selling books.
His many accolades and achievements include the Queen's Jubilee Medal for Community Service, being named Canada's most influential broker (Investment Executive Magazine) and being a member of the Canada's great business leaders and community champions for many years.
In his own words, Paul told us in 2018:
"Admittedly, it has been a few years since I crossed the finish line for my last marathon. There are many memories of time spent pounding the pavement; not the least of which is that when I looked down, I slowed down, when I looked up, I sped up."

---
Under Paul's leadership at DeGroote, I am grateful that he was looking up and forged the path that we – faculty, staff, and students – are continuing to travel and build on.
Please join me in taking pause to remember Paul, and the legacies that he created at DeGroote and McMaster. The School as we know it today – its reputation and community – has benefitted deeply from his vision, commitments, and contributions.
On behalf of the DeGroote community, I have extended sympathies to Paul's family. As an expression of our condolences, a flower arrangement has been sent to the family and donation made to the Juravinski Research Institute.
Visitation details can be found here: Paul Bates Visitation.
The Bates family has asked that in lieu of flowers, donations may be made to the Juravinski Research Institute.
Regards,
Khaled Hassanein
Dean, DeGroote School of Business