DeGroote MBA students place third in Kellogg Healthcare Case Competition
February 11, 2021
|
Contributed by Rebecca Hull, Marketing and Communications Strategist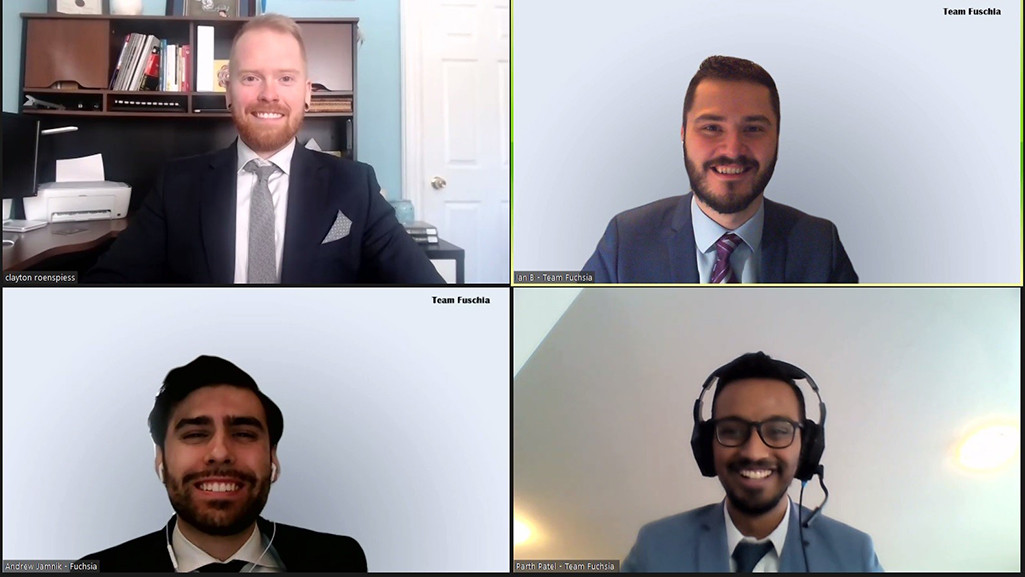 2021 competition focused on COVID-19 vaccination rates
The 18th annual Kellogg Biotech and Healthcare Case Competition focused on how business leaders can increase COVID-19 vaccination rates in a world grappling with vaccine hesitancy. Participating teams from across the globe evaluated the issue and developed plans to address it.
More than eighty teams applied to the event. Sixteen schools were represented in the second round, with DeGroote placing third overall in the competition.
The DeGroote MBA team share more about how they tackled the challenge and how their experience helped them address this emerging issue.
MBA DeGroote Team
Tell me more about the business case you had to solve. What approach did your team take to tackle this challenge?
The case competition focused on a relevant issue that every business leader had to think about in 2020/2021. How can business leaders build COVID-19 vaccination rates in a world with anti-vaxxers and vaccine hesitancy? Our team decided to place a significant strategic focus on the private sector's unique positioning by directly empowering the community leaders to engage the vulnerable and under-served segments of our society.
Where has your ability to problem-solve in the medical field been applicable during the Covid-19 Pandemic?
COVID-19 brought a barrage of unpredictable and quite horrifying surprises. Seeing the hundreds of hours spent by tens of interprofessional committees to decide what happens to patients caught in extremely challenging situations was incredibly inspiring. Due to my position right at the helm of the Perioperative Strategy team at SickKids, I was involved with several aspects of the hospital's and the province's pandemic response.
---
What tactics would your team use to address this challenge?
We used a research-intensive approach to understand the root causes for Americans' hesitancy to the novel COVID-19 vaccines from Pfizer and Moderna. We discovered that vaccine hesitancy is a complex and multilayered issue. We segmented the vaccine hesitancy populations of the US, developing tactics to address their main concerns about the vaccine. We focused on employing community-level engagement and advocated collaboration and coordination among community leaders and corporate stakeholders in this unprecedented vaccination effort.
You mention that you want to confront the significant challenges faced in the provision of medical services. Could you elaborate on what you mean by that?
I've seen firsthand the outstanding care our physicians deliver to patients who can navigate our system and access these services. One area Canada's healthcare system struggles with is making these services easily accessible to all those in need. This is where I envision data and technology help us identify system paint-points more accurately and streamline our ability to deliver high-quality care efficiently. It's inspiring to see telemedicine and virtual care take-off throughout Canada due to the pandemic – and I hope these changes open the doors to the greater use of technology in healthcare.
---
What approach did your team take to tackle the anti-vaxxer issue? How did you develop plans to address it?
To understand the real root cause of the issue that anti-vaxxers have about vaccinations, we had to understand why those individuals hold those positions. Our recommended approach was based on historical precedents, recent scientific and polling data, and new advances in behavioural sciences. The strategy we utilized was called the 3Cs, in which we focused on the community, collaboration, and coordination of our tactics.
Could you share one of the biggest challenges you've faced in your field and how you overcame it?
When I worked as a service coordinator, I struggled because we only had so many resources to ensure adequate patient care. I had many discussions with management to ensure we took all the steps to provide healthcare to as many people as possible. Home and community care have significantly suffered due to understaffing and lack of resources over the past decades, especially with the COVID outbreaks.
---
What does placing third (out of more than 80 teams) in this competition mean to you/your team?
I have always felt that DeGroote had competitive advantages and that we can hang with the best from elite business schools. Our placement in such a prestigious competition such as Kellogg confirmed this. It's been great exposure as a group, and the experience is a prize unto itself. Overall, I think case competitions help you grow and challenge you in new and interesting ways.
How is your MBA preparing you for the work you do today?
I tell anyone who will listen that everyone should take an MBA – it is one of the best decisions I have made in my life. It's like a psychology degree mixed with the hard and soft skills that every workplace needs. DeGroote has immersed me in some of the most challenging roles, and it forced me to grow. The change I have seen internally and in peers around me is so motivating. I have seen friends and colleagues develop and thrive in the last year or so, and I'm so excited to see where everyone goes.