Letter from the Dean: Reflecting on our bold reputation and bright future
January 8, 2018
| Hamilton
Contributed by Len Waverman, Dean, DeGroote School of Business
At the DeGroote School of Business, we're doing more, engaging more people, and reaching further than ever before. Wherever our students and alumni travel in the world, they're able to find others who believe in our mission of transforming business and society. As we enter 2018, our reputation precedes us.
McMaster University is now ranked 66th in the world and third in Canada by the Shanghai Jiao Tong University Academic Ranking of World Universities. This is up from 83rd in the world in 2016 and 96th in the world in 2015. The University also sits at 78th on the Times Higher Education's World University Rankings, up from 113th in 2016. The latter represents the biggest improvement of any institution in the global top 100. I'm proud to say DeGroote continues to play a key role in advancing McMaster's annual global standing, and last year was no different.
Four new faculty members, Aadil Merali Juma, François Neville, Yan Wang, and Yun Zhou, joined the School in July. In addition to teaching and mentoring our students, they've been supporting DeGroote's research efforts and enhancing the School's reputation on the global stage. Aadil, François, Yan, and Yun are wonderful additions to our expanding faculty.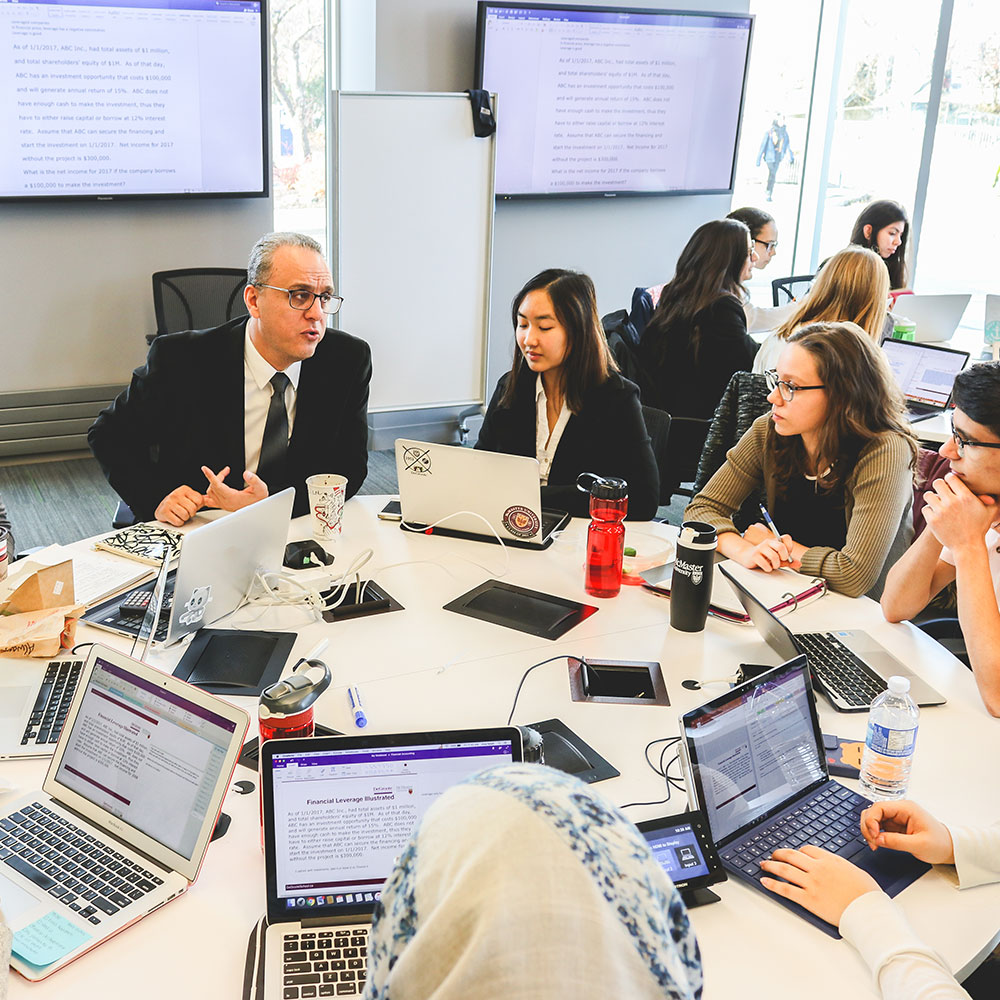 Offering innovative programs continues to be a top priority. In September, McMaster welcomed the inaugural cohort of the Integrated Business and Humanities (IBH) program. IBH was conceived to produce the country's next generation of business leaders, and was developed by DeGroote and the Faculty of Humanities. First-year classes include topics such as Introduction to Ethics; Foundations of Community Engagement; and Insight and Inquiry: Questions to Change the World. Graduates will be equipped with sharp critical thinking skills, personal and ethical values, and emotional intelligence. The program attracted significant media attention upon launching, including a 2,000-word feature in The Atlantic.
Last fall, we also witnessed the graduation of the first Executive MBA in Digital Transformation (EMBA) cohort. These 20 students are already well-positioned in their fields, with an average age of 42 and average work experience of 12 years. Nearly a quarter of the inaugural class was international, with students joining us from places such as Hong Kong, Finland, Germany, and India. The second EMBA cohort is about to embark on their residential module in Silicon Valley, California – one of the highlights of the 13-month program. The School's MBA program is also in the midst of exciting new developments, including plans to offer a Part-time stream beginning in September 2018. We're continuing to pursue the best and brightest students from every discipline for the Full-time and Co-op streams.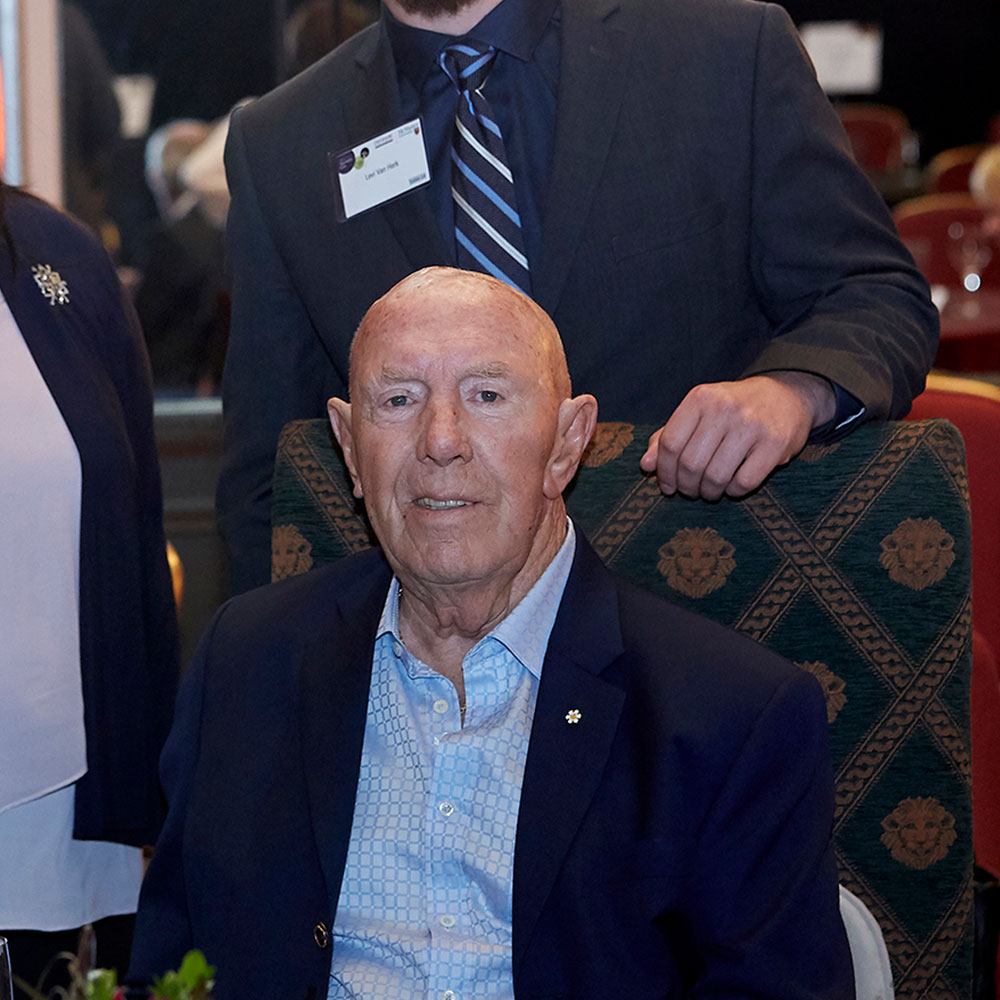 In terms of engaging government, corporate, and community partners, DeGroote mounted a number of large public events in 2017 – above and beyond our Knowledge @ DeGroote and DeGroote Women's Professional Network offerings. As part of the School's 25th anniversary, longtime friend and supporter Michael G. DeGroote received the 2017 Wayne C. Fox Distinguished Alumni Award. A number of senior campus leaders, past and present, were on hand during September's Evening of Accolades gala, including: President and Vice-Chancellor Patrick Deane; President Emeritus Alvin Lee; Chancellor Suzanne Labarge; and Chancellor Emeritus Mel Hawkrigg.
The School also made a concerted effort to expand our reach in Toronto. In partnership with SAS Canada, DeGroote hosted the third-annual Digital Leadership Summit at One King West Hotel & Residence in September. The event attracted nearly 200 guests, who were able to listen to 19 industry and academic experts discuss the need to remain resilient through change, as well as having the foresight to make strategic decisions 10 years into the future and beyond.
Famed economist and McMaster alumnus Myron Scholes delivered a sold-out DeGroote Insight Lecture at the Fairmont Royal York in October. Scholes was co-recipient of the 1997 Nobel Memorial Prize in Economic Sciences, and currently serves as the Frank E. Buck Professor of Finance, Emeritus, at Stanford University's Graduate School of Business. His engaging lecture was titled, The Evolution of Asset Management: What the Future Holds.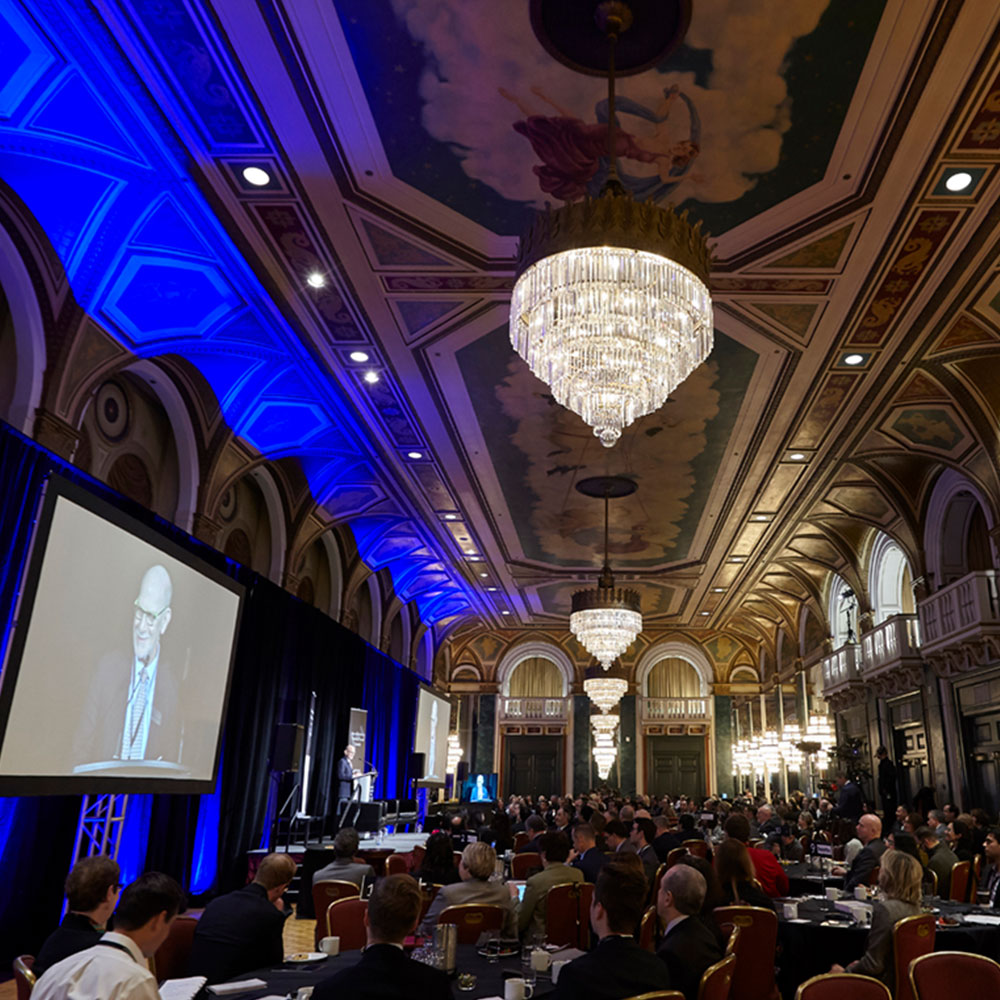 DeGroote returned to the Fairmont in November to co-host the Innovation and the Future of Canada Summit, in partnership with seven other business schools from coast to coast. The event welcomed senior executives, entrepreneurs, scientists, politicians, engineers, and academics to Toronto for a full day of knowledge-sharing and networking. The Summit  focused on topics such as the major technological trends changing our world; supporting and funding scientific excellence; balancing inclusive growth and sustainability; China's strategy for innovation leadership; and cultivating the next generation of innovators.
On the research front, the School showcased the varied expertise of our faculty as part of McMaster's Brighter World campaign. Beginning in September, a series of DeGroote research stories were published on our faculty website, the McMaster Daily News, the new Brighter World research website, and numerous social media channels. These stories, which will continue to be published well into 2018, shine a light on all of our Faculty Areas, as well as the School's efforts to advance societal health and wellbeing. Topics so far have included everything from uncovering the true cost of cancer to driving change in Canada's mental health policies and services.
As we begin another year at DeGroote, I hope you will all take a moment to reflect your own personal milestones from 2017. Thank you for your ongoing efforts and contributions to our School, and welcome back to campus.