McMaster Health Leadership Academy on Mission to Transform National Health Care
March 23, 2023
| Hamilton, ON
Contributed by Faculty of Health Sciences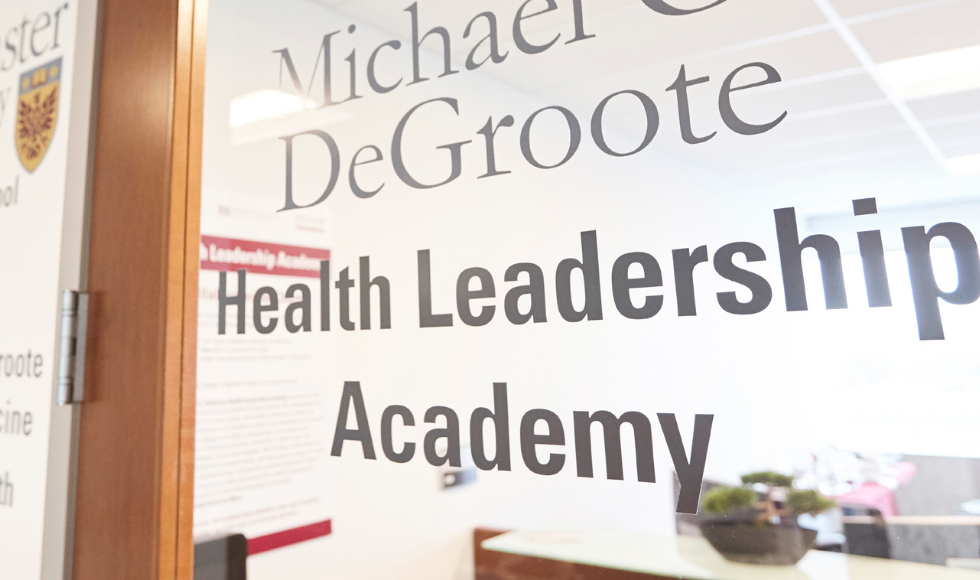 McMaster University's Health Leadership Academy (HLA) is on a mission to transform Canadian health care, challenging leaders to identify and scale new ways of thinking and doing.
The HLA is realizing its mission through innovative new programs imagined through a partnership between McMaster's Faculty of Health Sciences and the DeGroote School of Business.
HLA's approach includes a highly collaborative and engaging National Health Fellows Program focusing on helping senior leaders enact improvements and learn from health-care innovators and disruptors across the country and internationally. The program will culminate in a health forum dialogue planned this September in Hamilton, allowing participants from across Canada to share their learnings with a goal of effecting policy changes.
In addition to the National Health Fellows Program, the HLA is offering a Collaborative Health Governance program which launched last year and addresses challenges facing both health and social sector boards. In addition, a health improvement and faculty innovation program will launch later this year.
"The Health Leadership Academy is helping to bring forward some urgently needed new thinking and innovation in support of our health care system for the benefit of all Canadians," said Paul O'Byrne, dean and vice-president of the Faculty of Health Sciences. "This has the potential to transform Canadian health care for decades to come."

---
Khaled Hassanein, dean of the DeGroote School of Business said that:
"The National Health Fellows Program is a unique initiative that brings together senior health leaders from across the country to collaborate and explore creative solutions to challenges that exist, to reimagine the future of health care."

---
Bringing business world learning and innovation into health care and working with other industries is key to reforming the system, while keeping intact Canada's model of publicly funded care.
"We spoke with more than 160 healthcare leaders from across the country, in one-on-one conversations, and heard an overwhelming sense of frustration," said David Price, co-director of the HLA and a professor in the Department of Family Medicine at McMaster.
"We heard that real courage is needed to make this transformation. We don't need another policy paper or think tank. The success of our program will be measured in the ways our participants are able to effect change locally, provincially and nationally."

---
Michael Hartmann, co-director of the HLA, said that:
"This is a unique, game-changing opportunity where we have senior national health care leaders – including international expertise – forming an action-oriented think tank that will work on some of health care's toughest issues, collaborating on solutions that will benefit every Canadian."

---
The need for reform is evidenced by a 2021 Commonwealth Fund report that ranked Canada's health care system seventh in administrative efficiency, ninth in access to care and 10th overall out of the health care systems from 11 developed countries. Only the United States, which has a privately run system, ranked lower.
The HLA was founded in 2016 as a joint venture of the Faculty of Health Sciences (FHS) and the DeGroote School of Business, with a donation from Michael G. DeGroote. It aims to help health care leaders adapt to a constantly changing health-care environment.
Learn more about the Health Leadership Academy in this Globe and Mail feature.