McMaster Remembers Michael G. DeGroote
September 15, 2022
| Hamilton, ON
Contributed by McMaster University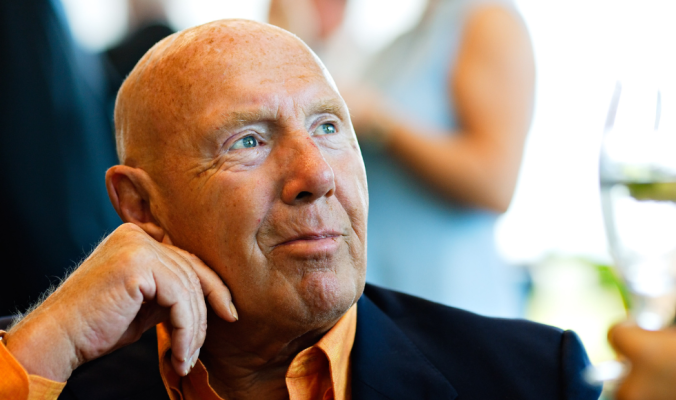 Michael G. DeGroote immigrated to Canada at the age of 14 and left school at grade nine to help support his family. He went on to become one of the country's most generous philanthropists, donating millions in support of higher education and medical research.
Entrepreneur, self-made man and philanthropist extraordinaire, Michael G. DeGroote has died at the age of 89.
DeGroote and his family's decades-long legacy of support of McMaster University has helped propel advances in infectious disease and antibiotic resistance, pain management, cannabis science, healthcare innovations, health management, business education, executive development and student support — to name only a few of the areas of world-leading research and education fueled by his generosity.
"We are deeply saddened to learn of Mr. DeGroote's passing," said McMaster President David Farrar.  "Mr. DeGroote and McMaster grew together over many years and we are grateful for his unwavering support. He had tremendous confidence that McMaster could help our community and that we could become an international research powerhouse. He was willing to support those ambitions in astounding ways and I know he was incredibly proud of all our achievements."
DeGroote was the first philanthropist in Canada to have a medical school named in recognition of his generosity and the first in Ontario to have a business school named for his support — both at McMaster.
DeGroote and his family also played a key role in ensuring the McMaster University Student Centre became a reality. They provided funds and after decades of anticipation and years of planning, the student centre opened in 2002 and remains the heart of campus.
Other areas at McMaster that have benefited from DeGroote's transformative philanthropy include the McMaster Museum of Art, epilepsy research, literary criticism and student awards.
On Dec. 17, 2003, DeGroote and his family made history and set the gold standard for individual giving in Canada with a gift of $105 million to McMaster. The donation remained the largest cash donation in Canadian history for nearly a decade.
That seminal gift established research centres in infectious diseases, pain, and molecular cancer as well as research chairs in medicine and stroke prevention and treatment. His support helped McMaster attract some of the world's best researchers and finalize the construction of the Michael G. DeGroote Centre for Learning and Discovery. In 2004, McMaster named its medical school the Michael G. DeGroote School of Medicine.
In May 2014, graduating McMaster medical students sprang to their feet to cheer as he made a surprise visit to their convocation, announcing he was making a new gift of $50 million. That new support  increased the university's focus on health leadership and biomedical research, and it seeded interdisciplinary collaborations between the Faculty of Health Sciences and the DeGroote School of Business.
"Mr. DeGroote's generosity will continue to impact generations of students and researchers in the health sciences at McMaster along with the countless patients they will go on to serve," said Paul O'Byrne, dean and vice-president of the Faculty of Health Sciences. "He was ambitious and driven and had an unparalleled belief in McMaster and in our faculty and students. He was always keen to learn about new research discoveries that we made and the impact they could have. He was also a true gentleman who always had a kind word for everyone. We are truly grateful for the enduring support of he and his family and for being our champion."
At the time of DeGroote's landmark $105-million gift to McMaster, John Kelton was dean and vice-president of the Faculty of Health Sciences.
"Michael DeGroote was a remarkable man who was always intensely interested in what would help our students, our researchers and clinicians, and our school," said Kelton. "He inspired us to reach for the stars and his support continues to make a profound impact, driving excellence in medical education, research, innovation and entrepreneurship, and patient care."
DeGroote began his relationship with McMaster in 1987 with a gift to the Faculty of Business. In 1992, the Faculty celebrated the opening of its first building and in recognition of his generous support changed its name to the DeGroote School of Business.
"It's a privilege to lead a school named after such a great business leader, entrepreneur and self-starter," said Khaled Hassanein, dean of the DeGroote School of Business. "Mr. DeGroote's support has helped us thrive as a school that fosters interdisciplinary thinking and evidence-based approaches to transform business and society. We shared the goals of developing people, nurturing leaders, and supporting education — and university education in particular. He regularly demonstrated these tenets over the years through the giving of money, time and passion."
DeGroote moved to Hamilton in 1959 and built Laidlaw Transport Ltd. into the company that would become the largest school bus operator and third-largest waste management company in North America. During the 1970s, he owned the Hamilton Tiger-Cats and in 1988, he sold Laidlaw Inc. to Canadian Pacific. He retired to Bermuda in 1990.
In 1990, DeGroote was made an Officer of the Order of Canada. In 1992, McMaster presented him with an honorary doctorate. In 2017 the DeGroote School of Business presented him with the Wayne C. Fox Distinguished Alumni Award, the school's highest honour.
—
For more information, go to
https://www.verhoevefuneralhomes.com/memorials/michael-degroote/5022549/