Meet DeGroote School of Business Valedictorian Momina Qureshi
June 14, 2022
| Hamilton, ON
Contributed by McMaster University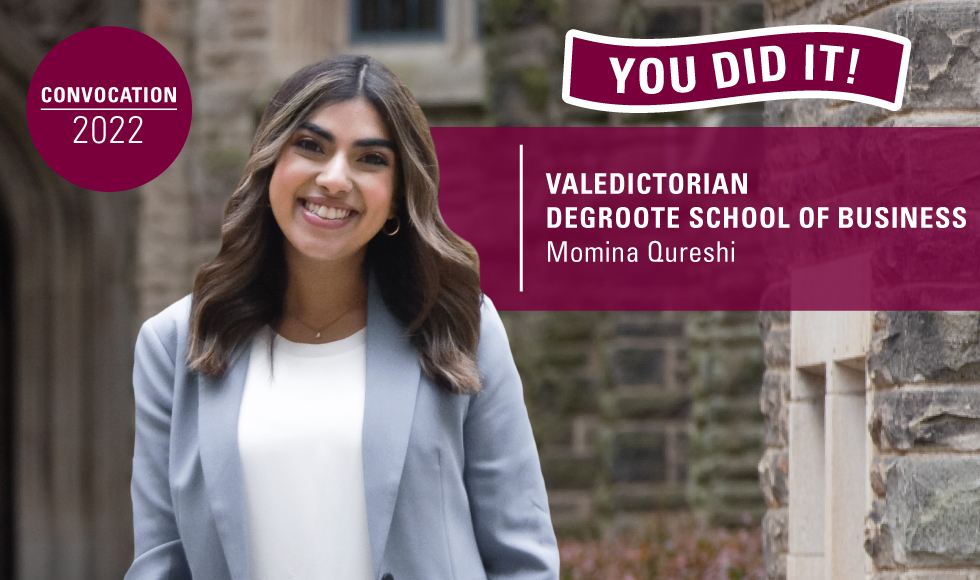 DeGroote School of Business valedictorian Momina Qureshi graduates June 14 with a Bachelor of Commerce with a focus in Marketing. We asked her a few questions about herself. Here's what she had to say.
Why did you choose McMaster?
One word: Community. 
When I was in Grade 12, I attended the annual May@Mac event. Walking into this event, I was choosing between a couple universities, and McMaster was not necessarily at the top of my list. However, that all changed very quickly. 
As I toured the campus, it was refreshing to see such a positive energy surrounding campus, lively with upper year students such as the Greensuits Representatives in their funky coveralls, willing to lend a helping hand or share their tips and tricks for navigating the transition between high school and post-secondary.
The feeling I got while touring the McMaster campus was like no other. The sense of community and school spirit was so evident that I bought a McMaster sweater right there and then to mark my commitment to attending the university! 
Fast forward, five years later…here we are!!! 
What's next for you?
In-between my third and final year, I completed a 12-month placement at Dyson as a marketing intern. I instantly fell in love with the company, the culture, and the wonderful range of products. With a passion for marketing and strategy, I am very excited to return following graduation, this time as the Assistant Brand Manager for Dyson's Hair Care business. If you or anybody you know is in the market for some fantastic and innovative hair tools, you know who to contact! 
Can you share a great piece of advice you've been given?
I know you want to think about what's next – plans for the next semester, next year, next five years but slow down! As cheesy as it sounds, life moves too fast so appreciate what's around you in the moment. You also don't have to have everything figured out. Take a deep breath and know that everything will eventually work out. 
Now that you're graduating, what's your advice for students?
There's too many to not share, so I'll narrow it down to five important life lessons that got me through these last five years at Mac: 
Get involved! The people you meet and the friendships you gain through working towards a mutual goal are truly lifelong. 

Try new things. Your undergrad is great time to put yourself out there through saying yes to unique opportunities. Worst case scenario, you don't like it and don't have to do it again!

With the above being said, it's also okay to say no. Sometimes, you'll want to be in two places at once, but opportunities come and go so prioritize what's important to you and go from there. Don't burn yourself out!

The MUSC Tim Hortons sometimes gives you free donuts or muffins if you purchase a coffee close to closing time! #StudentBudget

Spontaneous adventures and hangouts are always the best! It's okay to not have a plan – live in the moment and have fun.
Tell us about a good memory from your time at McMaster.
It's hard to pinpoint one exact memory since there are so many great ones, but recently, I participated in a virtual national case competition based in Victoria, B.C. with three close friends. We had 48-hours to complete two big deliverables, which meant we spent all night in the basement lecture rooms in DSB.
While we learned a ton about the strategy behind the case competition, it's the journey from start to finish that makes it so memorable. They say you learn a lot about a person when you go on a road trip with them, and that definitely applied here.
This case competition was our equivalent of a 48-hour car ride, and while we faced some bumps in the road, we reached our final destination with nothing but excitement and pride (and not to mention, a podium finish!). The best part was throughout it all, we had so much fun being with each other through the process, learning from each other, sharing fun stories, and creating random memories – that's the beauty of experiential learning! 
What's an accomplishment you're really proud of?
I am a big advocate for community engagement so when the pandemic hit, I wanted to find a way to give back during an immense time of need. As a result, I started a charity fundraiser to raise awareness and funds for United Way Hamilton & Halton's COVID-19 relief fund through selling handmade tie-dye merchandise. This was meant to be a project for just close family and friends, but due to the success within my close bubble, I pushed myself to keep it going a bit longer term.
I ended up raising close to $6,000 for the COVID-19 Relief Fund! This project taught me so much about not only the back end of operating a small business, but the power of community! It was one of the most rewarding and fulfilling experiences, and I can't wait to do something similar again.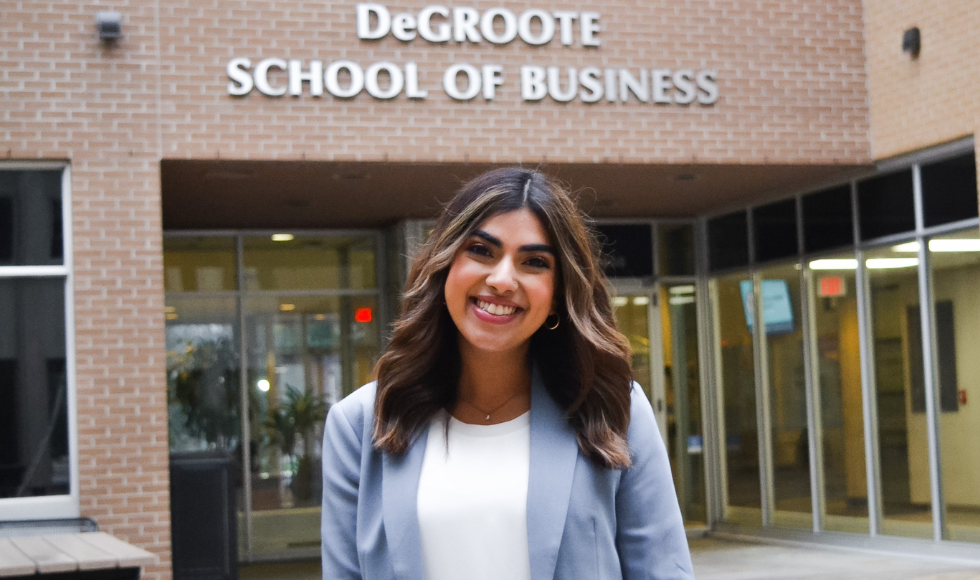 Tell us about a prof or mentor figure who made a difference for you in your time at Mac.
Professor Mandeep Malik – the GOAT! I had the pleasure of taking his COMMERCE 3MC3 and COMMERCE 4ME3 classes throughout my undergraduate degree, and the learning facilitated inside his class is like no other. He encouraged me to challenge the status quo and learn the art of complex problem solving within the marketing and sales world. Not to mention, he is always helping students succeed through providing real-world cases and after-class advice. 
If you could have a superpower, what would it be?
Teleportation! Not only would it be great for the environment, but it would save so much time. I also love to travel, so I'd love to go wherever in the world I wanted with the snap of my fingers. 
What's an important lesson you've learned so far?
Small actions = Big Impact. If you're thinking of a person, call or message them. Simple gestures of gratitude can go a long way! If you have an idea or want to participate in something, find out how you can make it happen. You have a network of connections through peers and alumni at university, and mix that with people that you already know from prior experiences, thus creating a great outlet of support. Take that leap of faith, and you never know what the outcome may be. 
While at Mac, did you receive donor-funded financial assistance (e.g., a scholarship, award, bursary)? Any thoughts on the importance of giving back to your alma mater to support future generations?
Yes! Thanks to the DeGroote Experience Fund (DEF), I have participated in many conferences and case competitions and have even gotten to travel to Windsor, Winnipeg, and Kelowna for experiential learning opportunities. I also participated in McMaster's Exchange Program, through which I received scholarships for travelling abroad. 
As an institution that fosters and shapes personal and professional growth, it's important to pay it forward and give back to your alma mater. I'm looking forward to supporting the next generation of business leaders through giving back after graduation.