New Gift From Power Corporation Supports Leadership Hub and Programming at DeGroote School of Business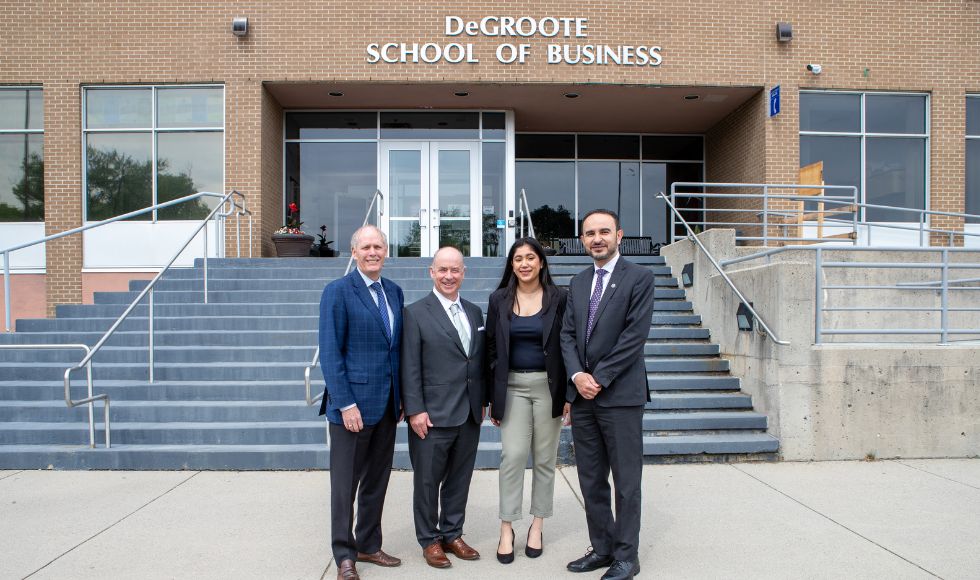 A new gift from Power Corporation of Canada will be used to create experiential lab space and programming for young leaders from McMaster's DeGroote School of Business.
The Power Corporation Leadership Hub will offer a collaborative space for students, faculty and industry partners to reshape business leadership together. It will be one of several interconnected discovery-based learning labs housed in the new McLean Centre for Collaborative Discovery, scheduled for completion in 2024.
"The Leadership Hub at DeGroote embodies an exhilarating vision: it will bring leading-edge research on the modalities of leadership into a vibrant, interdisciplinary setting," says Paul C. Genest, senior vice president at Power Corporation.

---
"The Hub will help produce the intellectually nimble and thoughtful leaders that business and society require to navigate today's profound challenges and generate a sustainable prosperity for Canada. Power Corporation of Canada is proud to help launch this inspiring project."
"By giving students from different disciplines and backgrounds natural spaces to come together and innovate, we are knocking down silos and transforming the way we support our future leaders," says Dean Khaled Hassanein, of McMaster's DeGroote School of Business.

---
In addition to a physical hub, the Power Corporation Leadership Fund will be used to build out developmental programming for undergraduate students with the goal of introducing critical leadership skills as early as possible. Early leadership programming will focus on topics such as leadership awareness and personality; leadership emergence; leadership behaviour and effectiveness; and leadership impact on the local business and educational community.
"This framework will act as a model for the development of leadership bootcamps to be offered to prospective students, ensuring every undergraduate student at DeGroote has been exposed to leadership development," says Yair Berson, professor, Human Resources and Management, and future director of the DeGroote Leadership Centre.

---
Four years ago, DeGroote announced the transformation of its Bachelor of Commerce program with an emphasis on problem-based discovery, interdisciplinary study and interaction with business leaders that would prepare graduates to succeed in the workplace for years to come.
"This tremendous contribution is directly in line with our vision of the Bachelor of Commerce program and the McLean Centre as an innovative space where students and mentors can come together to study, collaborate and solve real-world problems," said McMaster president David Farrar.

"We are grateful for this investment, and looking forward to the advancements it will enable."

---