Taking a path less travelled
March 29, 2021
|
Contributed by Gordon Pitts, Writer in Residence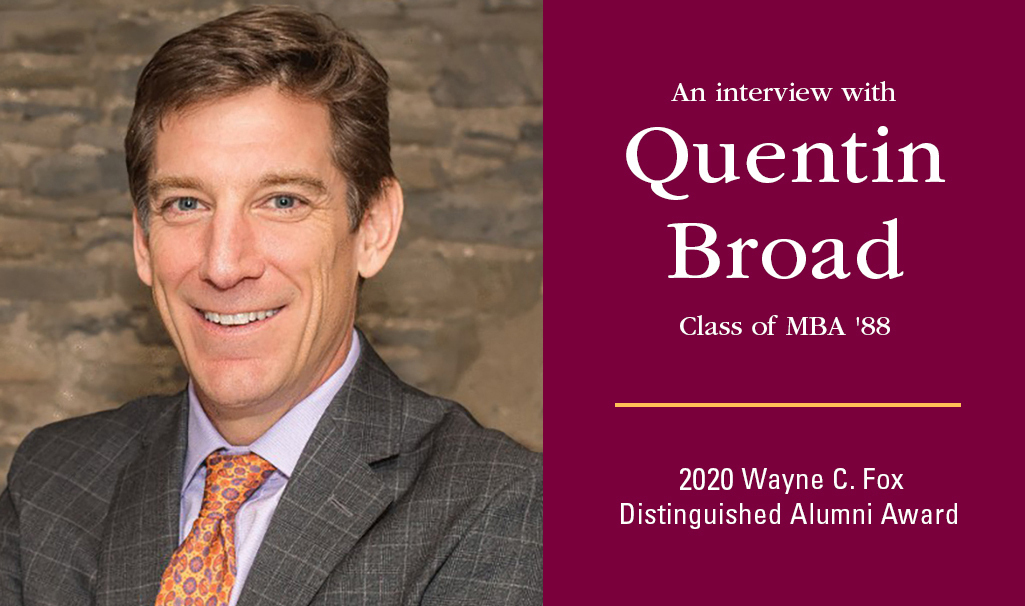 For Quentin Broad, while the change was dramatic and the path less worn, the hugs clinched the deal.
Several years ago, Broad was pondering an audacious shift out of the financial services career he had pursued so successfully and lucratively in three decades since earning his MBA at the DeGroote School of Business.
It would be a daring leap for a senior capital markets executive in his early 50s – to head a fledgling non-profit, Capitalize for Kids (C4K), which supports children's mental health agencies.
In his due diligence, Broad visited one of its client agencies, accompanied by a C4K consultant.
Broad looked on as the agency's executive director greeted the C4K employee with a big hug, and, after a couple of hours of intense interviewing, hugged him again.
Broad was moved by this passionate gesture of appreciation, so rare in business life. He was making a move for all kinds of reasons – some personal, some professional. Above all, he wanted to make a difference in his community.
The ability to make an impact that goes beyond net income, earnings per share, is pretty extraordinary.

---
Yet, that dramatic shift was entirely consistent with Quentin Broad's choices since graduating from DeGroote. In giving and volunteering, he and his wife Dianne, parents of three children, have tried to improve young people's lives, reflected in Broad's very active leadership role at McMaster.
Wayne C. Fox Distinguished Alumni Award
Broad's unique package of discipline, compassion, and commitment to the community underpins his recognition as the 2020 recipient of DeGroote's Wayne C. Fox Distinguished Alumni Award.
It is a fitting tribute for someone who quips that the commitment to the University is so intense that he must have the brand of McMaster emblazoned his body.
I probably have a maroon

'

M

'

somewhere.

---
Mary Williams, McMaster vice-president of university advancement, says Broad is special in the length and frequency of his volunteer involvement. "This guy never said no to us. It is unbelievable."
Three years later, he is feeling good about the move. He is leading C4K on a steep growth curve, as he helps client agencies in their capacity building. C4K was founded in 2013 as a charity investment conference. It has broadened into working with financial services professionals to assist agencies reduce perilously long wait times for children with mental health challenges.
The mental health stresses have only intensified during the pandemic. However, Broad notes that agencies' flexibility in deploying virtual delivery of services may have a positive longer-term impact.
For Quentin Broad, the son of a manufacturing shipping employee and a salesman, it has been a long journey from growing up in Brantford, Ontario. Broad enrolled at nearby McMaster and obtained a bachelor's degree in social sciences in 1986. The DeGroote MBA seemed a natural upgrade, and he felt it would be a great launching pad to whatever he chose in a career.
In his undergrad years, his engagement in extracurricular life was primarily confined to sports. The turning point came in MBA school when he ended up as editor of the program's student newsletter.
Championing a philosophy of charitable investing
Two years after graduation, he responded to a "call to arms" from another MBA grad to help rejuvenate the program's alumni group.
"The university treated me well and gave me an extremely good foundation in the practical world, in addition to the academic value. It was a natural opportunity to give back when he put out that call."
Once Broad started getting involved, one thing led to another. "It is kind of like Hotel California," he says, smiling, alluding to the Eagles' song lyrics:
"You can check out any time you like, but you can never leave."
That tenure has included service on the DeGroote MBA Association, and McMaster Alumni Association, as well as 12 years on McMaster's Board of Governors. In 2015, the Broad Family MBA Scholarship was formed, awarded to second-year students displaying academic and volunteer achievement.
At McMaster, as in all their volunteer activity, Quentin and Dianne championed a philosophy of "charitable investing," which entails more than giving money by helping shape and measure outcomes.
Life on Bay Street
Meanwhile, Broad was compiling a diverse CV on Bay Street. He made the shift from human resources at Bank of Nova Scotia to a corporate banking role, both with Scotiabank and segued to investment banking at the Canadian arm of Deutsche Bank.
In 1998, he made a career pivot – from banking to investment analysis, rising to be a top-rated research analyst. He would spend the last decade of his "Bay Street" career managing teams within the equities business at CIBC.
The diversion to run a non-profit was even more radical – a path that few on Bay Street have pursued. Some might think it reflects typical mid-career soul-searching. Broad laughs, pointing out that, compared with buying a sports car, running a charity "is probably not a bad mid-career thing to do."
He gave up a lot of remuneration over the rest of his career; some people told him it was a brave move. He scoffs: "Brave is going to war. I'm just changing my address and changing what kind of impact I can have. That's really not brave."
Broad was told that he could achieve his life objectives by staying on Bay Street and handing over large sums to the charities. "I can still write cheques," he points out.
I think I can create more impact with who I am, what I can do, the experiences I bring, and insights I might have than anything my money can do.

---
Impact is a keyword
Impact is a keyword in all his work, as it is at Mac, where he feels he can point out situations where the University could do better. "I am not afraid to say this is working and this isn't working."
Dean Lean Waverman says in everything Broad does – including his Ironman triathlon competitions – he strives to be the best. "He continually distinguishes himself in countless ways throughout his life."
"His examples of generosity illustrate how he has affected positive change in the world and at DeGroote," Waverman says, thus contributing to the growth and student experience at the University.
And yes, Broad feels he does get the requisite hugs from McMaster. The School has "has been a bit of a love affair" for almost 40 years. The embracing, either physical or verbal, will continue.