Five ways the RBC Challenge prepares students for the future of work
February 9, 2021
|
Contributed by Rebecca Hull, Marketing and Communications Strategist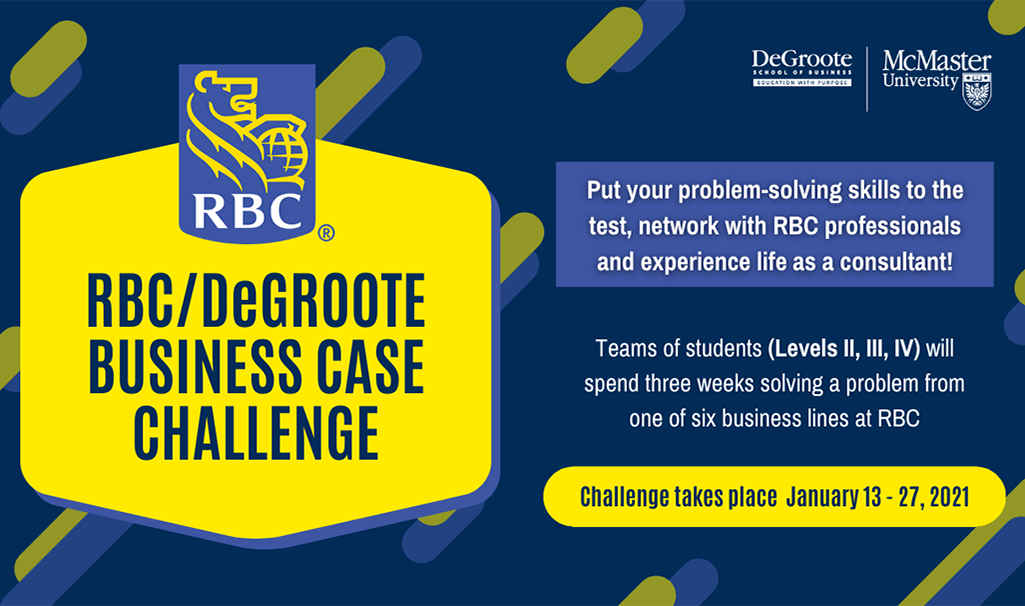 DeGroote students put their problem-solving skills to the test and experienced life as consultants during the RBC Challenge in January. In partnership with RBC, 68 students (BCom levels II, III, IV) spent three weeks solving real-world problems impacting the industry. This challenge prepares students for the future of work, guaranteeing each winning team an interview for a coveted job with the company. DeGroote and RBC work to bridge the gap between traditional education systems and meaningful participation in work.
So, what were the key takeaways for participants?
Facilitate critical mindset of students
Problems should be dealt with purposefully and productively. Students make decisions and find solutions that are fair, accurate, and collaborative. They learn how to analyze an issue or situation and the facts related to it. The acquisition of information, reflection, analysis, and decision-making that is imperative to the challenge is also relevant as a business leader. DeGroote students adopt a critical mindset to solving problems through rational processes and evidence-based knowledge.
Enhance leadership and teamwork through dynamic learning
Team-orientated environments and team-based work systems are the future of work. The RBC Challenge fosters a dynamic learning mindset of a team. A team that looks for methods to improve and seeks the most effective way of doing something. DeGroote teaches students to think big, be collegial, act with integrity, and inspire others. The continuous and active process to grow and learn is a necessary mindset for the future workforce.
Experiential learning plays a key role in paving the path from classroom learning to real world problem-solving. Case challenges create this opportunity for students to go beyond traditional evaluation methods and present solutions/ideas directly to an organization on real-life business problems. Scenario-based exercises are a great way to identify the calibre of future talent interested in the business. Therefore, participation in case competitions gives students an edge in gaining industry related knowledge/skills and networking exposure," said Ronya Kobrosli – Elhakim, Senior Recruiter, Early Talent Acquisition, Personal & Commercial Banking, and Insurance.

---
Define problems and communicate solutions
DeGroote students have a passion for transforming how to do business and want to make a difference in the world. They work to define problems, understand the need, establish a purpose, and implement a plan. Students develop a mechanism for identifying solutions and practice different problem-solving methods during case challenges. Complex problem-solving is necessary when preparing workers to participate and anticipate the future of business.
It was an absolute pleasure to take part in our second RBC and DeGroote Case Challenge. RBC was blown away by the level of professionalism and talent displayed by all participating teams. RBC needs to participate in events like these because it allows students to develop skills required for the future of work, such as teamwork, communication, adaptability, problem-solving and critical thinking. These are all skills we look for at RBC, which ties in with our Future Launch commitment to helping youth prepare for a drastically changing workforce," said Dheeraj Dhull, Manager, Early Talent Acquisition, Capital Markets.

---
Network with diverse professionals
The future of work is human-centric. It is essential to network with professionals and work in teams that are diverse and inclusive. DeGroote is building leaders that are innovative, transformative, and impactful. Students adapt, pivot, and grow during these case challenges. They develop into business leaders that instill trust, respect, and goodwill with the people they work with. These leaders will create environments that support community, productivity, and morale.
Discover and unlock career potential
Case challenges are the starting point to a career – developing students' self-confidence in their abilities to reason. As a future workforce, it is important to develop the skills to clearly communicate, collaborate with others, and assume responsibility for tasks. DeGroote teaches students to embrace bold interdisciplinary thinking to drive innovation. They develop a type of open-mindedness regarding divergent world views necessary to innovate and participate in the business world.