Restoring Biodiversity: Greensuits Commerce Students Give Back to Nature at McMaster
May 19, 2023
| Hamilton, ON
Contributed by Joanna Williams, Marketing and Communications Strategist
As part of the Greensuits giving back initiative on May 6, 90 Commerce students spent their Saturday afternoon giving back to Mother Nature.
Greensuits joined forces with Nature at McMaster at the lower campus parking area. This area is part of the Ancaster Creek subwatershed, a major tributary to the Dundas Valley and flows out into Cootes Paradise, into the Hamilton harbour and then out into Lake Ontario.
Restoring biodiversity
"What we're trying to do this year is restore the biodiversity of the creek and the lower area around it to provide more habitat, more food for traditional species," says Wayne Terryberry, Coordinator of Outdoor Recreation and Natural Lands at McMaster University.
"The flora and fauna – especially deer, rabbits, fox, birds – are moving through here. We're taking up the invasive species which out compete the native food sources for the animals to eat and we're planting native species."

---
This includes removing invasive species like European buckthorn or Tatarian honeysuckle. He explains invasive plants are not native to Canada and have come here from Europe or Asia. These plants out compete native species and do not offer any real food value to animals.
"We're trying to create more food and habitat sources for bees, birds, deer, whatever may move through here," explains Terryberry. "So it's a healthy ecosystem for them to live and prosper but also migrate between these two significant nature areas of Cootes Paradise and Dundas Valley."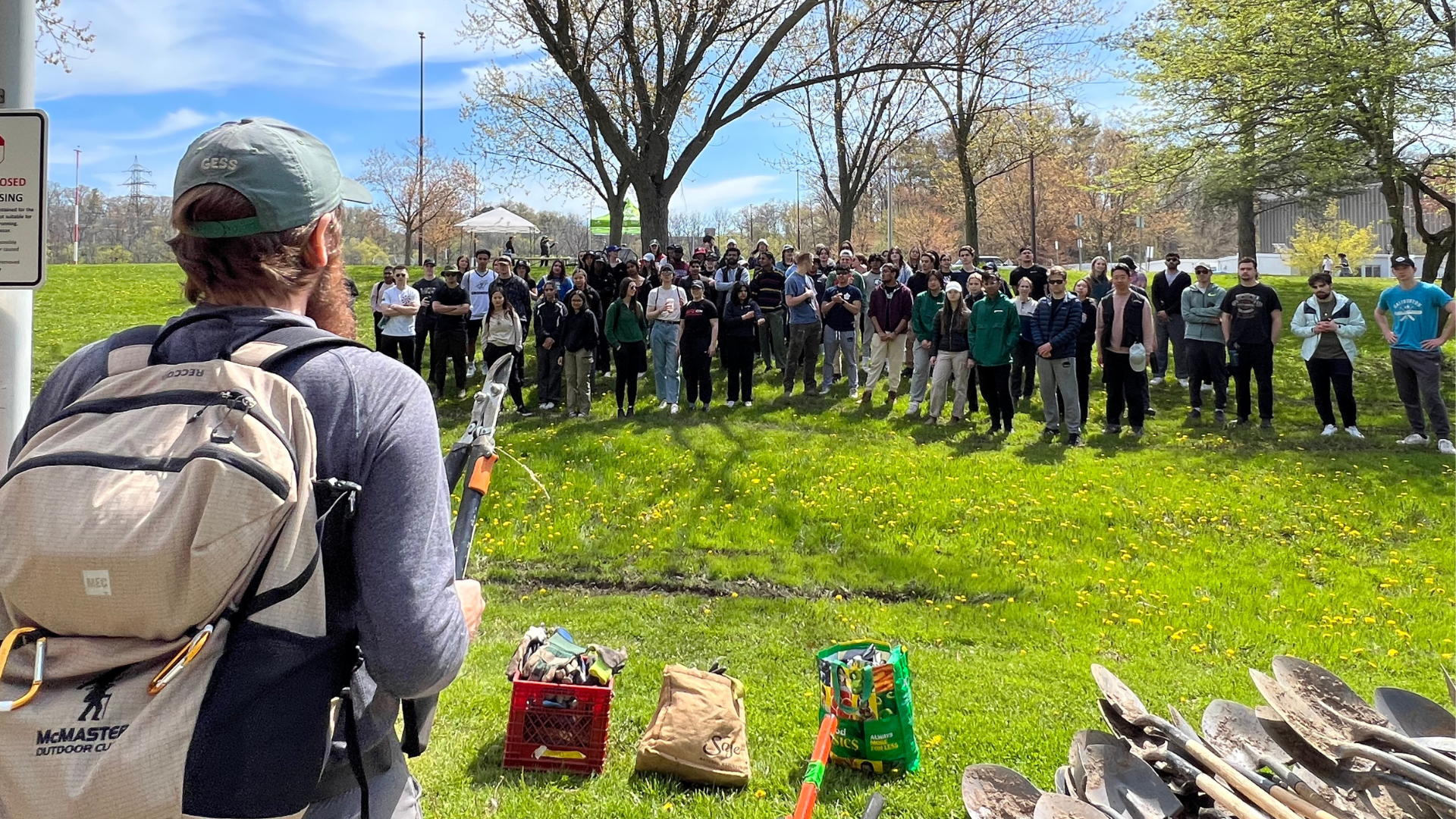 He says the work students are doing today will have an impact down the road. "When students come back here in 10 or 20 years as alumni, they will see a lot of the trees they planted grow tall and they'll see less invasive species and I expect more birds, more pollinators and they'll feel they contributed."
The Greensuits participants recognize they need to act now to protect and preserve these natural spaces.
"This is the future that we're making ourselves," says Integrated Business and Humanities Level I student Wonu Adelusi. "The future is the present and we are that future. Therefore, we have to work for it in the present."

---
What does sustainability mean to you?  
"We care about the world we live in today. We want to see sustainability in the form of nature, but also people – we want to make sure that we're thriving," says Aarthi Thommandram, Integrated Business and Humanities Level I student.
"I would say sustainability means acting in a way that ensures that we can provide for what we need while making sure that our environment is cared for in a long-term way," says Braydon Marchand, Commerce Level II student.

---
Terryberry hopes this initiative will continue to be a long legacy of students working to protect the natural habitats around McMaster.
"We have to make sure that each student group that comes along after maintains the work and we keep it strong here. What we're doing here is something we need to do, and these students have a lot of vested interest – both a passion for it, but also, it's their future."

---
Learn more about the natural areas around McMaster and how you can help. Visit Nature at McMaster.