Transforming Bright Minds Into Strong Business Leaders
April 27, 2023
| Hamilton, ON
Contributed by Izabela Shubair, DeGroote Contributor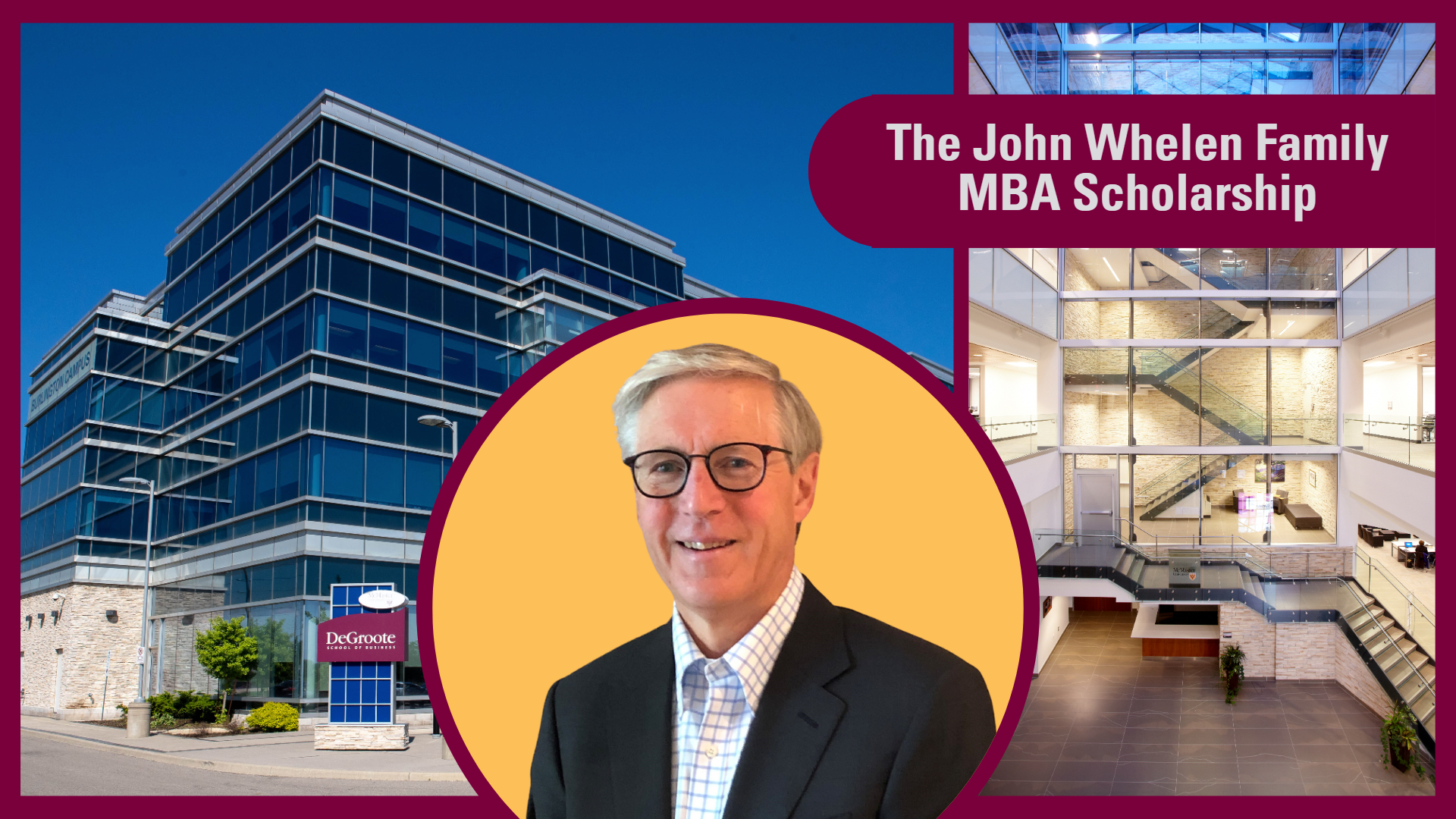 When John Whelen graduated from McMaster's Master of Business Administration (MBA) Co-op in 1988, the program was facilitated from two basement classrooms and established itself as an innovative offering. Thirty-five years later, the now retired executive is giving back to ensure the program continues to transform bright minds into strong business leaders. With a commitment of $270,000, John Whelen and his wife Stormie Stewart established the John Whelen Family MBA Scholarship. The gift coincides with the MBA's recent 60th anniversary.
"I wanted to support education and the natural decision was to help the place that was responsible for setting me up for the success I've had in my career," says Whelen, a former senior executive at Enbridge Inc. "The fact that this scholarship coincides with 60 years of the MBA program allows us to celebrate the milestone while looking ahead at where the program can go from here, who it can attract, and what it can achieve."

---
The inaugural scholarship for $10,000 will be part of DeGroote's MBA Admission Scholarship Competition for the 2023-2024 academic year. It will be awarded to an incoming full-time or co-op MBA student who demonstrates both outstanding academic achievement and significant extracurricular and/or professional achievements.
How MBA Scholarships Make a Difference
John Medcof is the Director of the MBA program. He says the program attracts students from across the world — many of whom have financial needs. For some, a scholarship is the encouragement they need to pursue their MBA. For others, it alleviates student loans. And for others still, it eases the stress of living expenses and reduces their family's financial burden.
"We've had students, who look like promising applicants, tell us they cannot come to school because they don't have the financial security," says Medcof.
"So, for some students, a scholarship like this can mean the difference between being able to attend the program. They are always delighted and grateful to be scholarship recipients, and we often hear from students where a contribution like this makes a difference to them. From tuition help to allowing them to work less and focus more on their studies, the ways in which a scholarship helps are wide-ranging."

---
Beyond the Scholarship's Monetary Benefits
In addition to helping students financially, Whelen says he also hopes the contribution encourages students to become advocates for the MBA program once they launch their careers and that it helps to attract candidates who have numerous options available to them.
"I want to see the University thrive and DeGroote continue to stay relevant," he says.
"For myself, the MBA at McMaster turned out to be extremely important to my career. It was actually through contacts I made at the School that I ended up at Enbridge and spent 30 years there. I hope the scholarship is an impactful contributor to someone's decision to go back to school at Mac."

---
DeGroote's Dean, Khaled Hassanein, says the School is grateful to Whelen and his family for investing in MBA students. This type of gift, he says, also extends beyond its monetary value to encourage students by substantiating their efforts.
"We wish to thank John Whelen and his family for this generous gift," says Hassanein. "Having distinguished alumni like John give back is a testament to the program's impact on students. For our learners, receiving a scholarship is also a validating experience. It demonstrates to them that someone believes in them and is committed to supporting the next generation of business leaders."

---