Fidelity Canada Day at DeGroote School of Business
DeGroote students are invited to join Fidelity Canada for an interactive day full of networking, connecting and learning.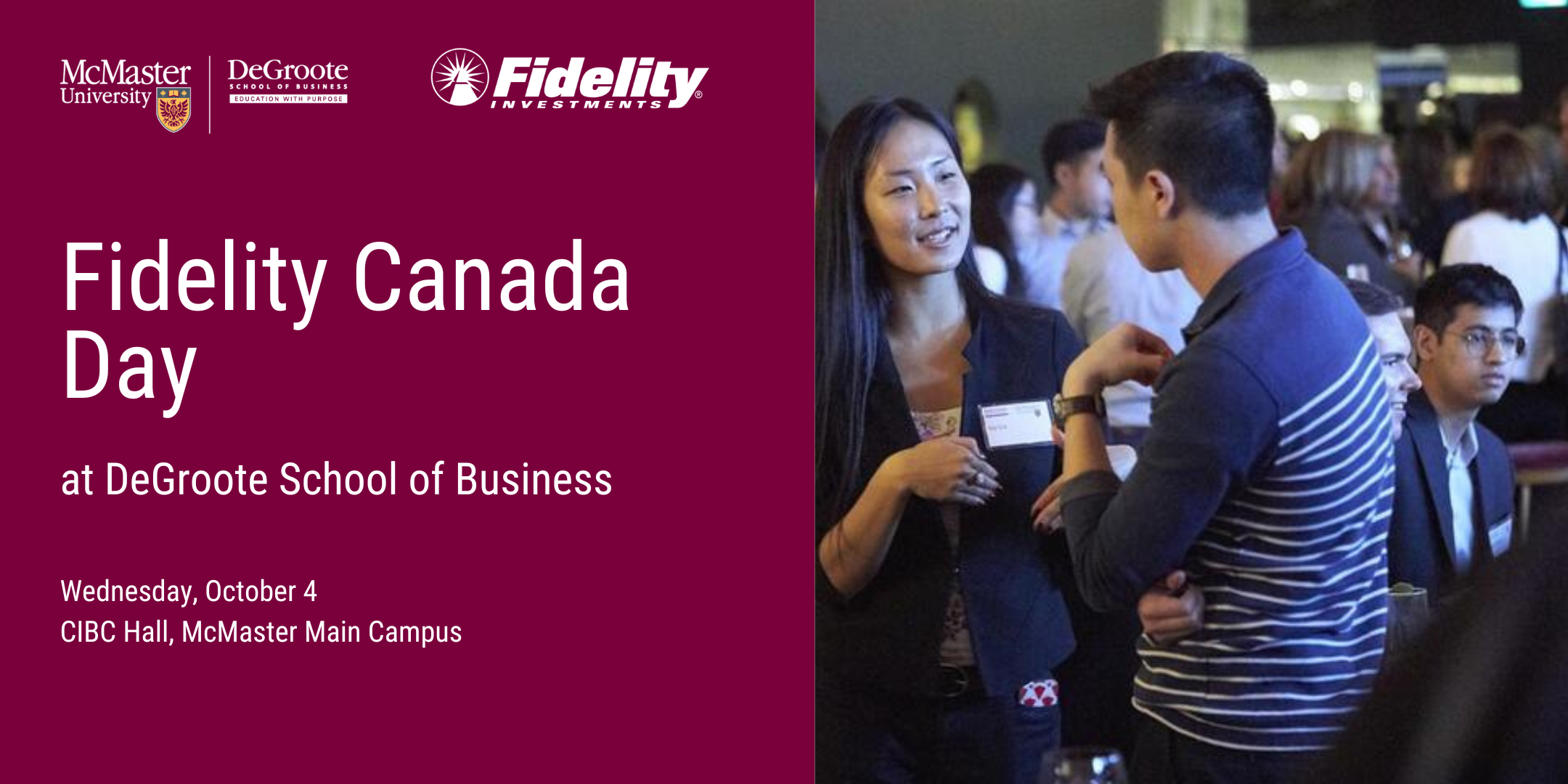 Details
Date & Time
October 4, 2023
10:00 a.m. - 5:30 p.m.
Location
CIBC Hall, McMaster University Main Campus
1280 Main St. W.
Hamilton ON
L8S 4L8
Cost
Free. Registration Required
Description
Fidelity Canada is partnering with the DeGroote School of Business to run and host the inaugural "Fidelity Canada Day at DeGroote School of Business". Fidelity Canada's senior leadership and recruitment team will be on-campus to connect and network directly with DeGroote students in a manner that is typically not available to most. Students will have the chance to listen to panel discussions from Fidelity Canada representatives, learn more about Fidelity Canada, network directly with Fidelity Canada Leadership and learn more about their recruitment process.
The Agenda for the day can be found below. All of the available events are free to attend, and students are encouraged to attend as many of these opportunities as possible. However, while all events are free to attend, your registration is kindly required.
Attire for the day is business professional.
AGENDA
| | |
| --- | --- |
| Time | Event |
| 10:30 – 11:20 | Session 1 | Kickstart your career |
| 11:30 – 1:20 | Private Event |
| 1:30 – 2:20 | Session 2 | How to stand out: Best practices for resumes and interviewing |
| 2:30 – 3:20 | Private Event |
| 3:30 – 5:30 | Networking Session |
Map
CIBC Hall, McMaster University Main Campus
1280 Main St. W.
Hamilton ON
L8S 4L8
(McMaster University, Main Street West, Hamilton, ON, Canada)