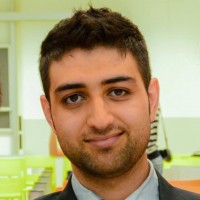 Ali Vaezi
Management Science
McMaster University 1280 Main Street West Hamilton, ON, Canada L8S 4M4
DSB A211
905-525-9140, x26726
Ali joined the PhD program at DeGroote in September 2013. His current research interests include transportation of dangerous goods, environmental risk mitigation, and emergency planning.
Additionally, Ali is interested in the applications of business analytics, optimization methods, risk analysis techniques, and game theoretic approaches in problem solving.
Supervisor: Manish Verma
Education
M.Sc., Civil Engineering for Risk Mitigation, Polytechnic University of Milan, Italy
B.Sc., Civil Engineering, Sharif University of Technology, Iran
Selected Publications and Presentations
Trucco P., Vaezi A., Masi D., Bouchon S., "Development and test of an information sharing protocol for emergency management in Critical Infrastructure systems", 5th International Disaster and Risk Conference, Global Risk Forum (GRF), August, 2014, Davos (Switzerland).
Vaezi, Ali, Misagh Ketabdari, and Giovanna Marchionni. "Evacuation plan as a risk mitigation measure: Scenario-based time estimation of partial evacuation operation." The Online Journal of Science and Technology 4.2 (2014).
Massimiliano de Ambroggi, Paolo Trucco, Ali Vaezi, and Giorgios Giannopoulos. A state of the art report on the external dimensions of dependencies and interdependencies of EU critical infrastructures. Joint Research Center, European Commission (2013). DOI: 10.2788/42105
Experience
Teaching Assistant
DeGroote School of Business, McMaster University
Courses:
Applied Business Statistics (MBA)
Modeling and Analytics Using Spreadsheets (MBA)
Operations Modeling and Analysis (Undergraduate)
Operations Management (Undergraduate)
Applied Statistics for Business (Undergraduate)
Research Assistant
DeGroote School of Business, McMaster University
Areas:
Risk assessment and management
Metaheuristic solution methodologies
Application of game theory in location and transportation decisions
Professional Activities
Director of Industry Relations at Graduate Management Consulting Association-McMaster (2015- Present)
Active Member of Critical Infrastructure Working Group at International Association of Emergency Managers-Canada (2014- Present)
Business Faculty Representative at Graduate Students Association-McMaster (2014- 2015)
Summer Academy Alumnus of Crisis Management at German Office of Civil Protection and Disaster Assistance (2013)
Project Engineering Intern at Moshanir Engineering Consultants, Iran (2009)
Professional Affiliations