Alumni Speaker Series – Bryan Herechuk of Hamilton Health Sciences
career
| June 15, 2020
Submitted by
Lisa Keenan
for Career & Professional Development
Important Notice
For the latest information and updates about McMaster's response to COVID-19 (coronavirus) please visit the McMaster COVID-19 site.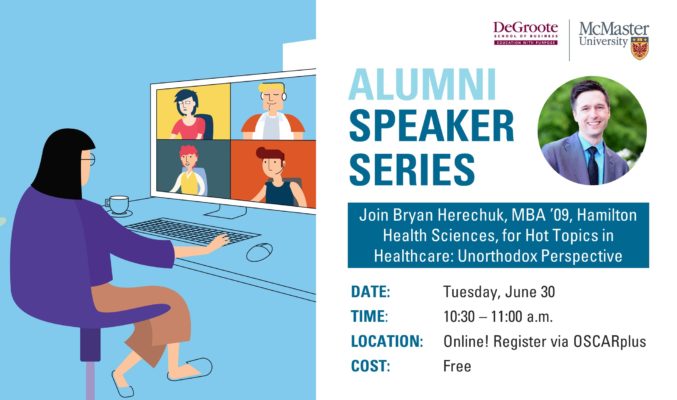 Hot Topics in Healthcare: Unorthodox Perspective with Bryan Herechuk
Canada has long boasted one of the most accomplished health care systems in the world. Universal, cost effective and accessible, Canada has shown that our health system is at least on par with the nations around the world to truly take care of our own. As with any health care system, there are always ailments to take care of, opportunities to take advantage of or pervasive challenges that seem to elude detection. What are some of the main, pervasive issues in our health system that we need to become cognizant of and energize our ability to explore and tackle? This session will introduce you to some of the "under the radar" issues from the perspective of DeGroote HSM alumnus Bryan Herechuk, who has worked across a wide variety of portfolios within our hospital system.
Date: Tuesday, June 30
Time: 10:30 to 11:00 am
Register in OSCARplus. A link to attend the event will be emailed to registered participants.