Alumni Speaker Series – Hazim Hassan of the Ontario Hospital Association
career
| June 15, 2020
Submitted by
Lisa Keenan
for Career & Professional Development
Important Notice
For the latest information and updates about McMaster's response to COVID-19 (coronavirus) please visit the McMaster COVID-19 site.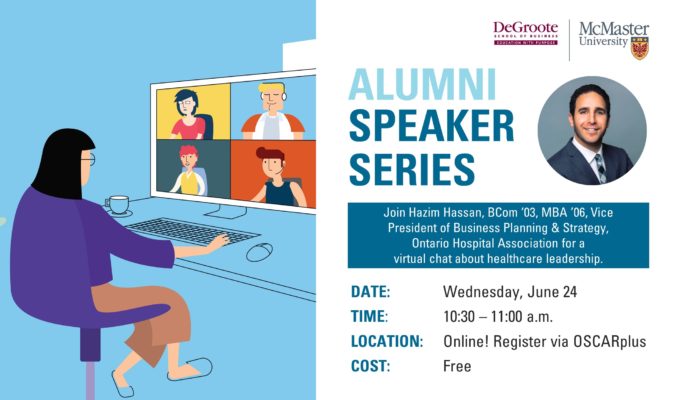 Can a leadership competency model capture the essence of healthcare leadership? Join us to find out.
Have you ever tried to measure or model leadership? It's tough. It's an invisible force that shapes and moves oneself and organizations but trying to measure it is like trying to measure the weather, you know it exists, you know that it's powerful, but trying to predict it can leave you out having a picnic on a rainy day. Join Hazim Hassan for a candid discussion on his perspective on healthcare leadership and what he thinks is an assessment model that comes the closest to measuring leadership competency in both a helpful and meaningful way.
Hazim is a Senior Healthcare Executive with 10+ years of experience designing, implementing, and evaluating strategic plans that align people and operations to meet clear and impactful goals. He has had extensive experience managing large healthcare teams in a number of clinical and non-clinical settings. He is currently the Vice President of Business Planning & Strategy at the Ontario Hospital Association (OHA) where he was recently the Executive Lead for the planning and implementation of the 2018/2021 strategic plan focused on Serving Ontario's Hospitals to build a better health system.
His academic achievements include the completion of the Executive Program in Managing Healthcare Delivery at Harvard Business School, a Masters of Business Administration (MBA) and an Honours Bachelor of Commerce from McMaster University.
Date: Wednesday, June 24
Time: 10:30 to 11:00 am
Register in OSCARplus. A link to attend the event will be emailed to registered participants.