Alumni Speaker Series: Tony Matta, President, Nestle Coffee Partners | July 28
career
| July 21, 2020
Submitted by
Lisa Keenan
for Career & Professional Development
Important Notice
For the latest information and updates about McMaster's response to COVID-19 (coronavirus) please visit the McMaster COVID-19 site.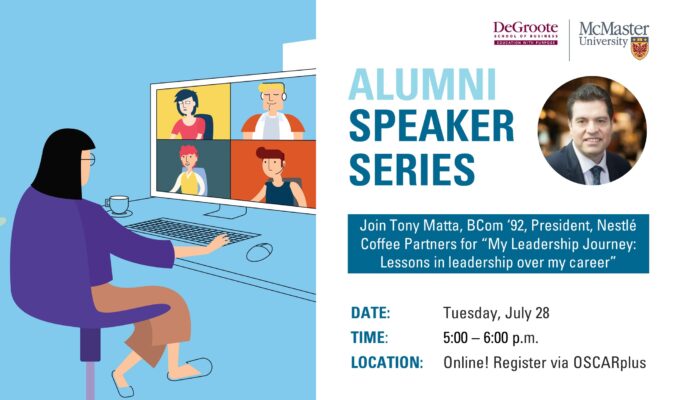 Tony Matta is President of Nestlé Coffee Partners, responsible for the strategy, sales and marketing of a large portfolio of Consumer Packaged Goods (CPG) and Foodservice products including Starbucks Coffee, Seattle's Best Coffee, Torrefazione Italia, Nescafé, Chameleon, Blue Bottle and Teavana.
Join Tony on July 28 as he speaks about "My Leadership Journey: Lessons in leadership over my career" to hear about his unique journey and insights.
Date: Tuesday, July 28
Time: 5 – 6 p.m.
For more about Tony and to register for the event, please visit OSCARplus.