Are you ready to reach your peak?
extracurricular
| October 5, 2022
Submitted by
Evelyn Franz
for DeGroote Summit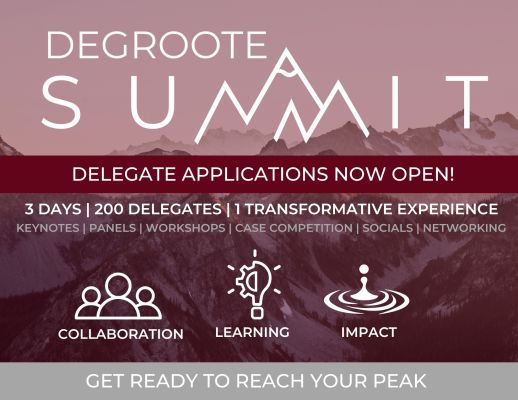 DeGroote Summit applications are live! Apply today to experience an impactful weekend filled with opportunities to push your boundaries, make meaningful connections, and discover your peak potential.
The DeGroote Summit is DeGroote's first-ever leadership and development conference taking place January 13 – 15 in Hamilton.
Our aim is to provide a platform for students to push their limits in order to reach their maximum potential and find their footing in the real world. Featuring a wide array of networking opportunities, a case competition, workshops, keynotes, panel discussions, social events, and more, the DeGroote Summit is an experience you don't want to miss out on! The conference will bring together 200 of the highest calibre of delegates pursuing various academic programs in universities across Ontario – you could be one of them! Apply today and prepare to reach your peak!
Follow DeGroote Summit on: