BMO Virtual Summer Development Series | July 27-30
career
| July 20, 2020
Submitted by
Lisa Keenan
for Career & Professional Development
Important Notice
For the latest information and updates about McMaster's response to COVID-19 (coronavirus) please visit the McMaster COVID-19 site.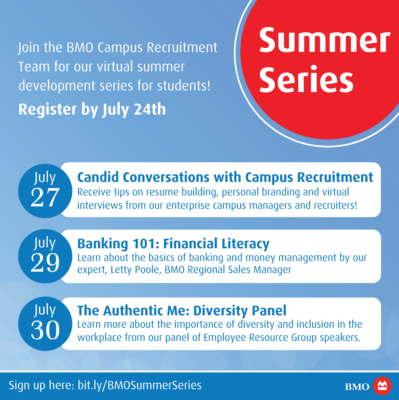 The Enterprise Campus Recruitment Team is thrilled to share the BMO Summer Series with you! Hosted from July 27-30, the series will consist of three exciting career development workshops, providing an opportunity for students of all academic disciplines and levels to learn valuable skills while engaging with BMO Campus Recruiters and business leaders in a virtual setting!
Sessions (EST):
Candid Conversations with Campus Recruitment
Monday, July 27
1-2 p.m.

Banking 101: Financial Literacy
Wednesday, July 29
1-2:30 p.m.
The Authentic Me: Diversity Panel
Thursday, July 30
1-2 p.m.
Register here by Friday, July 24.