Don't Miss Your Chance: Canada's Comeback Challenge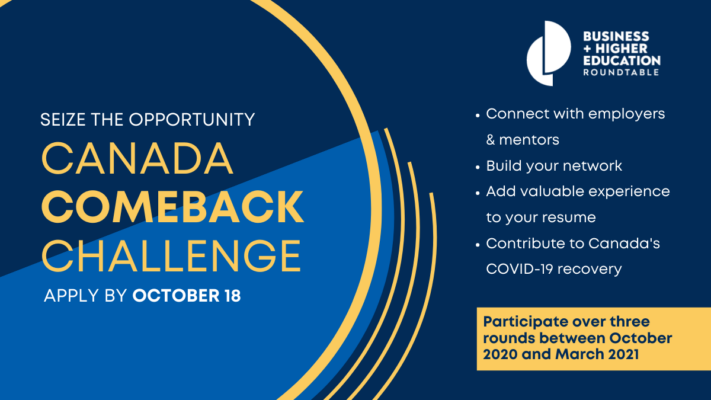 The Business + Higher Education Roundtable is launching a national student competition, the Canada Comeback Challenge, made possible by $4.5 million from the Government of Canada as part of their COVID-19 relief package. Thiscompetition is a way for students to connect with employers and mentors, build their networks, and add valuable experience to their resumes, all while contributing to Canada's COVID-19 recovery.
Other benefits for students include:
Access to new experiences and new skills to add to their resumes, including public speaking and presenting
Leadership and mentorship opportunities
Access to professional development resources
Opportunities to apply their classroom training to real-world challenges
Access to financial support to help develop their team's ideas (Up to $250 per individual student in round one and $4,000 per team in round two)
Awareness of new career pathways
Students can win prizes, including future internship opportunities!
Event Details:
Teams of 2-10 members can participate and at least 50% of each team must be undergraduate students.
October 19 to November 29: For round one, teams will submit a two-page brief on their solution by or before November 8. Submissions will be adjudicated and the top 50 teams will move to round two.
December 14 to January 31: For round two, teams will develop a two minute video submission. Submissions will be adjudicated and the top 10 teams will move to round three.
February 15 to mid-March: For round three, the finalists will be announced, a panel of judges will review the video submissions and winners will be announced.
For more information and to register by October 18, visit the Canada Comeback Challenge website.