Canadian Marketing League Awards Gala
career
| March 16, 2023 (LIVE)
Submitted by
Sue Atallah
for Canadian Marketing League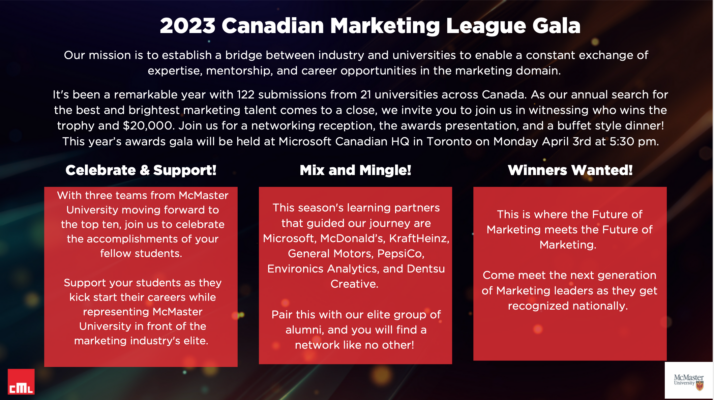 Come leverage our elite network. Seriously, do it!
Mix and mingle with top executives from Microsoft, PepsiCo, McDonald's, KraftHeinz, General Motors, Environics, Dentsu, and our elite network of alumni!
Join us to view the final presentations of CML's Top 10! Watch as the best young marketers in Canada compete for a $20,000 grand prize, and leverage the experience they gained in working with our Executive Learning Partners. Afterwards, help us celebrate the achievements of our elite competitors with an exciting reception, a delicious meal, and a night of fun with a great view of Toronto!
Leverage our network to expand yours and see what it takes to be the next winner of the Canadian Marketing League!
Two ticket options are available for sale. Full day tickets include breakfast, lunch, all-access passes to the Top 10 presentations, awards gala & reception, and dinner! Gala tickets ONLY include access to the awards gala, reception, and dinner! Please note, ONLY Full-day tickets are eligible for the DeGroote Experience Fund (DEF) reimbursement for McMaster University Students.
Details:
Monday, April 3
Time: 5:30 – 9:30 pm
Location: Microsoft Headquarters
Register: eventbrite.com
This is where the Future of Marketing meets the Future of Marketing! #BasicallyTheOscars #CanadianMarketingLeague