Canadian Tire Bank X MARS Apprentice Sprint Case
extracurricular
| March 11, 2020
Submitted by
Yael Morris
for MARS Apprentice
When the worlds of finance and marketing come together…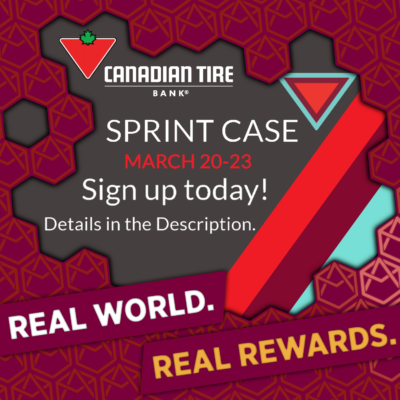 The second and final MARS Apprentice Sprint Case for this season presents the one and only Canadian Tire Bank (CTB). As the company behind one of the first and best retail credit cards in Canada, CTB's industry experience helps us understand what it takes to succeed in the Canadian retail landscape from a financial perspective.
We are excited to announce that this case will focus on the customer experience with CTB's Triangle Card.
What do you need to know about this Sprint Case?
March 20 (6:00 pm – 9:00 pm)
Work in a real-time War Room and test customer journeys with CTB
Participate in an agile brainstorming session, a powerful tool that CTB uses in industry
Network with the CTB team
March 21 + 22 (All day)
You have two full days to work with your team on your solution
Touch base with CTB employees, and have access to other valuable resources for you and your team to come up with your best solution
March 23 (9:00 am – 1:30 pm)
Present your solution at CTB to their employees and your competition
Winners are announced
Networking + Lunch with CTB
How do you sign up?
Sign up with a team of up to five people (or individually and we'll put you in a team). Each member must send their own email with the following information to mars@mcmaster.ca:
Subject line "CTB Sprint Case Sign-up"
A response to the question "how are you going to make the most out of this experience?"
All team members' names, year of study, student ID's, and email addresses
We'll take care of everything else! Transportation, room bookings, meals, snacks, … we've got your back so that you'll have everything you need to succeed!
*Disclaimer*: This Sprint Case is capped at just 25 students, so make sure you put your best foot forward!
Sign-ups close: Tuesday, March 17 at 11:59 pm.