Complete Your MBA 700 Spring / Summer Course Evaluations by August 7!
academic
| July 27, 2020
Submitted by
Ritika Malkani
for DeGroote School of Business
Important Notice
For the latest information and updates about McMaster's response to COVID-19 (coronavirus) please visit the McMaster COVID-19 site.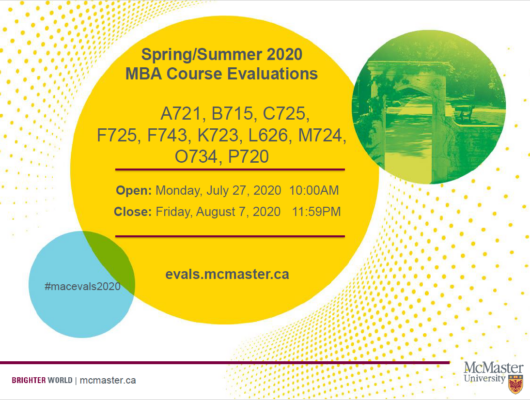 Course evaluations are an important opportunity for you to share your thoughts and feedback, to help influence future courses.
What you need to know:
MBA 700 course evaluations are live from Monday, July 27, 2020 at 10:00 a.m. – Friday, August 7, 2020 at 11:59 p.m.
Responses of individual students are never released to anyone.
Only the aggregate results for classes with five respondents or more are released to the instructor and appropriate administrators, after the instructor has submitted all the marks for all the courses s/he has taught in the semester.
Share your course evaluation feedback here.