Cozy Reading Circle | May 28
extracurricular
| May 19, 2021
Submitted by
Annie Zhao
for Student Open Circles
Important Notice
For the latest information and updates about McMaster's response to COVID-19 (coronavirus) please visit the McMaster COVID-19 site.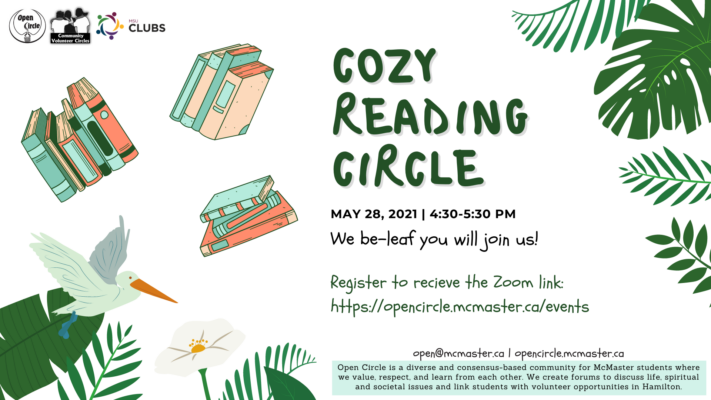 Ease yourself into the weekend with some mindful reading! Join us at our Cozy Reading Circle to find meaning and companionship in reading. Bring whatever you like to read, along with a warm beverage and blanket, and settle down for an hour to rest and refresh the soul!
Reflection Circles are a safe space for connecting with yourself and others in an atmosphere of respect and awakening to your authentic life through exploring mindfulness practice, creative expression, and discussion. You can attend any session that works for you. Please arrive at the start of the circle. You do NOT have to be part of Open Circle already to participate.
Event details:
Bi-weekly on Fridays
4:30 – 5:30 p.m. (EDT)