DAA Virtual Discussion with Big 4 Panel | July 14 and 15
extracurricular
| July 9, 2020
Submitted by
Talha Irfan
for DeGroote Accounting Association
Important Notice
For the latest information and updates about McMaster's response to COVID-19 (coronavirus) please visit the McMaster COVID-19 site.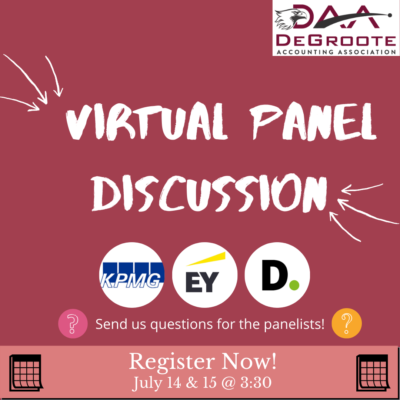 The DeGroote Accounting Association brings you another exciting event to help grow your network! Join us for a virtual panel discussion featuring professionals from KPMG, EY, PWC and Deloitte.
This event is a great opportunity to get a head start to fall recruitment by hearing from past DeGroote alumni working in public accounting. No membership is required.
Tuesday, July 14 – 3:30 p.m.
Alexandra Di Domenico, Staff Accountant, Audit, KPMG
Hamza Mahmood, Staff Accountant, Audit, Deloitte
Michelle Boivin, Staff Accountant, Audit, EY
Wednesday, July 15 – 3:30 p.m.
Gnani Shah, Assurance Associate, PwC
Kyle Edick, Senior Associate, Transactions Advisory Service, EY
Veronica Fedorovich, Senior Consultant, Forensic & Dispute Advisory Services, KPMG
Register here and send us any questions you have for the panelists prior to the event.