Discover a New Community During Saturdays With Open Circle
extracurricular
| August 27, 2020
Submitted by
Hardil Bhatt
for Open Circle McMaster
Important Notice
For the latest information and updates about McMaster's response to COVID-19 (coronavirus) please visit the McMaster COVID-19 site.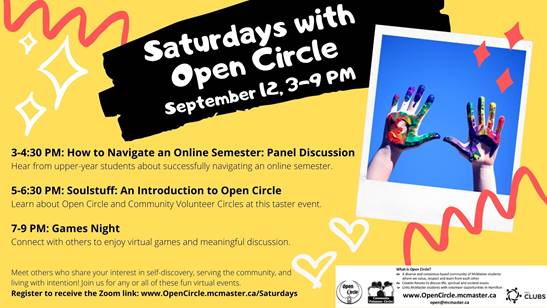 Join us to ground yourself at the beginning of the new semester while meeting others in the Open Circle community.
You are welcome to participate in any or all of these virtual events:
Join Reflection Circles and Self-development courses to hear about other people's experiences
Learn about how to get involved virtually in serving the Hamilton community through Community Volunteer Circle's weekly volunteer groups.
Discover more about Hamilton and McMaster, try mindfulness practices, explore meaning through movie discussion, hear others' best practices for navigating an online semester, or hang out for some games.
Create new connections and get to know others who have similar interests in self-discovery and living life with intention. Find supports for this new and unprecedented way of doing school. We look forward to meeting you!
Click here to learn more and register.