Emerging Leaders Program | Aug. 15-22
extracurricular
| June 8, 2021
Submitted by
Joanna Williams
for Health Leadership Academy
Important Notice
For the latest information and updates about McMaster's response to COVID-19 (coronavirus) please visit the McMaster COVID-19 site.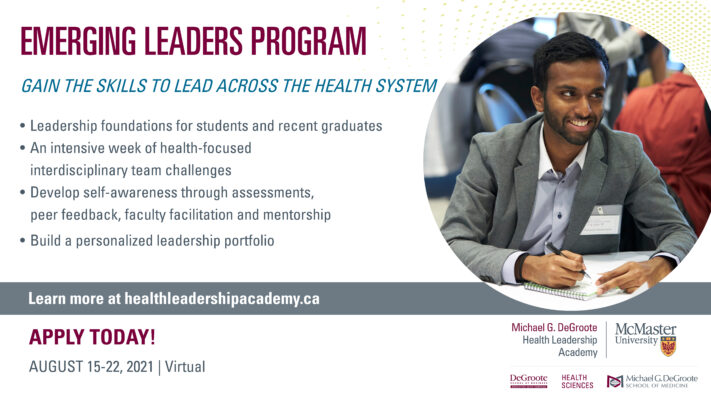 Emerging Leaders is a one-week intensive leadership foundations program for students and young professionals looking to gain the skills to lead across the health system.
About the Program:
Tailored to senior undergraduates, recent graduates, graduate students, post-doctoral students, medical residents, and young professionals
Dynamic interdisciplinary team-based learning with participants from across Canada and beyond
Participants gain insight into their leadership style and what motivates them to lead
One-on-one coaching
Creation of a personalized leadership development portfolio
Certificate of Completion with a pathway to the Certified Health Executive designation
Offered virtually: August 15-22, 2021
Application deadline: July 12, 2021
For more information visit the Health Leadership Academy website.