Graduation Photos: Composite Deadline Extended to Aug. 31
academic
| June 3, 2021
Submitted by
Lauren Murphy
for DeGroote Commerce Society
Important Notice
For the latest information and updates about McMaster's response to COVID-19 (coronavirus) please visit the McMaster COVID-19 site.
Attention Graduating DeGroote Undergrads! Due to the ongoing restrictions, the deadline to submit a grad photo for the Class of 2021 composite has been extended to Tuesday, August 31, 2021.
Studio update:
Due to the provincial shut down, any appointments have been delayed until New Paramount studios is permitted to open back up.
If you have already booked a slot, please check your email for more information.
If you have yet to book an appointment and would like to attend a studio session when it is permitted to open up again:
Navigate to www.newparamount.com
Select "Book"
Register as a new User
Re-enter and select "University/College"
Choose the studio location of your choice
Once registered, you will receive an email from the studio outlining their COVID-19 safety protocols.
If you are located outside of the GTHA or are not comfortable with a studio appointment:
New Paramount is offering the option to submit your own photo that they will photoshop to fit the style of the composite for a fee of $25.
Please see the image for instructions and specifications.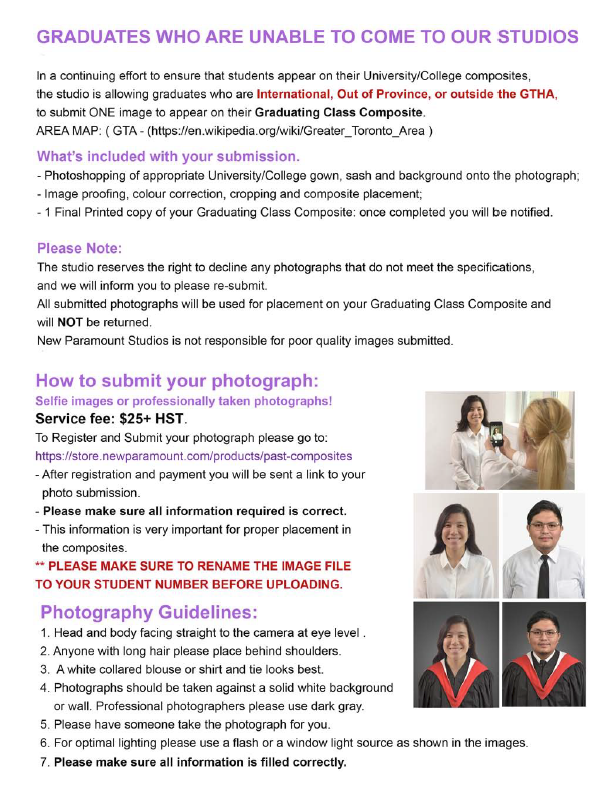 Additionally, graduates will be offered three (3) options to receive their composite photo from New Paramount Studios:
1. The composite can be sent to your directly via mail, cost of shipping will apply.
2. When restrictions allow, there will be an option to pick the composite up from the studio directly.
3. You will have the option to download the file,
If you have any questions about this process, please reach out to the DeGroote Commerce Society directly via email: info@degrootecommerce.ca.