Have Questions? Get Answers Through the New BCom FAQ!
academic
| September 24, 2020
Submitted by
Alexis Maynard
for Student Experience - Academic
As we move into a virtual academic year, we know this is a busy time as you adapt to your online learning environment and courses. You may have academic questions throughout the term that you're not sure who to reach out to about.
To help you get the answers to your questions more quickly and easily, Nicole and Alexis from the Student Experience team have compiled a list of the most common questions asked they receive through the general inbox, such as:
Questions about your 'major' (Spoiler: Your major is Commerce! But access the FAQ to learn about Areas of Focus)
How to pursue a minor?
What to do if you miss course work?
How to find the new FAQ: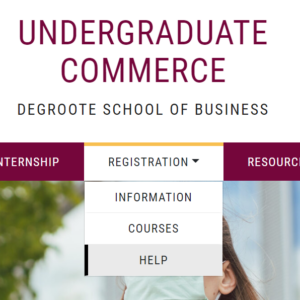 Is your question not answered on the FAQ? No sweat. Use the handy form built on the right-hand side of the FAQ to send an email directly to the Student Experience Team who is always there to help.
New questions and answers will be added to this important page throughout the year, so bookmark it and check back often.