How Can I Make a Difference?
extracurricular
| March 11, 2020
Submitted by
Hardil Bhatt
for Open Circle McMaster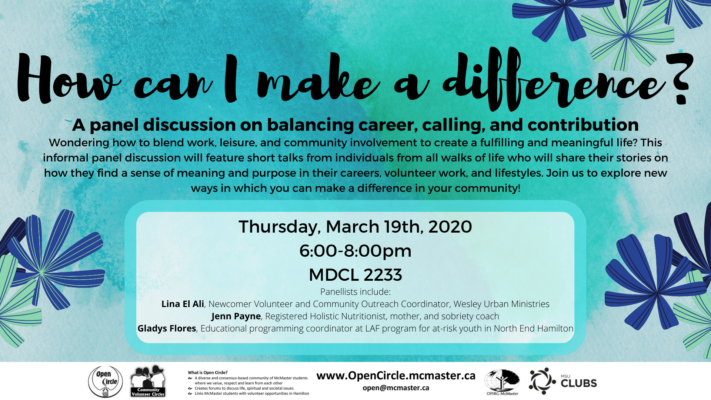 Wondering how to blend work, leisure, and community involvement to create a fulfilling and meaningful life? Want to discover what you can do to act and hopeful when faced with the world's big problems? This informal panel discussion will feature short talks from individuals from all walks of life who will share how they find a sense of meaning and purpose in their careers, volunteer work, and lifestyles. A brief Q&A followed by small group discussions will give attendees an opportunity to share their own experiences and learn from others. Join us to explore new ways you can make a difference in your community!
Panelists include:
Lina El Ali, Newcomer Volunteer and Community Outreach Coordinator, Wesley Urban Ministries
Jenn Payne, Registered Holistic Nutritionist, mother, and sobriety coach
Gladys Flores, Educational programming coordinator at LAF program for at-risk youth in North End Hamilton
Duane Dahl, Boys and Girls Clubs of Hamilton Assistant Executive Director
Date: Thursday, March 19
Time: 6 – 8 pm
Location: MDCL 2233