KPMG Coffee & Connect
This message does not apply to part-time students.
Important Notice
For the latest information and updates about McMaster's response to COVID-19 (coronavirus) please visit the McMaster COVID-19 site.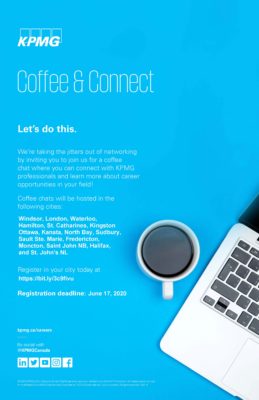 KPMG is taking the jitters out of networking by inviting you to join a coffee chat where you can connect with KPMG professionals and learn more about career opportunities in your field!
Please complete the survey below by June 17 to be considered for a virtual Coffee & Connect session. Coffee and Connect sessions will take place between July 6 – July 17.
Complete the survey. You will be contacted by KPMG's Talent Attraction team if you are selected to participate.