Leading in Health: Cultivating Leadership Beyond Medical Education | Apr. 12
extracurricular
| April 8, 2021
Submitted by
Joanna Williams
for Health Leadership Academy
Important Notice
For the latest information and updates about McMaster's response to COVID-19 (coronavirus) please visit the McMaster COVID-19 site.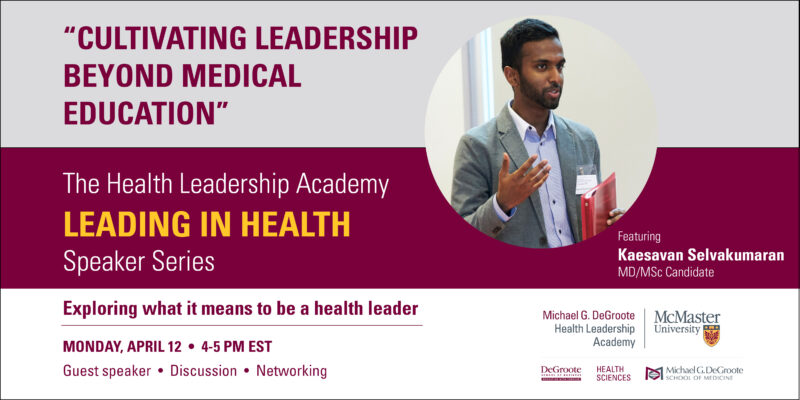 Kaesavan is a 2nd year MD student at the University of Toronto. He is concurrently pursuing a Masters in Systems Leadership and Innovation, with an interest in innovative healthcare delivery models in low and middle income countries. Kaesavan has been extensively involved in HLA programming, including Innovation by Design and the Emerging Leaders program. In undergrad and medical school, Kaesavan explored a range of opportunities at various levels of leadership in order to help him cultivate self-awareness needed to identify, curate, and prepare for a tailored career in medicine.
As an aspiring physician, Kaesavan will explore the limitations of current medical training, his personal leadership journey, and ways trainees can cultivate experiences and skills necessary to be a more effective changemaker.
The HLA's new "Leading in Health" speaker series explores what it means to be a health leader. Alumni and special guests will share their stories, experiences, and perspectives on key issues happening in healthcare today, and how they are making an impact in the industry. Connect with our community of health leaders by participating in discussions and networking.
Event Details:
Monday, April 12, 2021
4 – 5 p.m. (EDT)
Register on Zoom.