MOOSE Registration Now Open
extracurricular
| August 10, 2021
Submitted by
Adrienne Scott
for Athletics and Recreation
Important Notice
For the latest information and updates about McMaster's response to COVID-19 (coronavirus) please visit the McMaster COVID-19 site.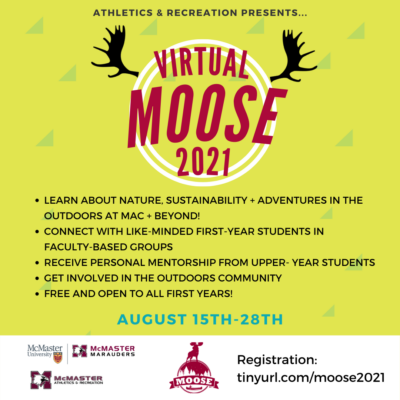 MOOSE is a faculty-based orientation program that connects and supports students with an interest in nature, sustainability, leadership, and the outdoors!
This year, MOOSE will take place on Microsoft Teams from August 15 to 29.
This program is open to ALL First-Year students, regardless of skill level. We welcome anyone from the occasional weekend trail hiker to the experienced paddler!
In this program, you will join a community of like-minded first year and upper year student leaders, and will participate in engaging events, activities, panelists, challenges, and faculty-group sessions.
MOOSE will help you with your transition to first year, help you build a strong sense of community, and help you to explore and connect with nature. Your MOOSE leaders are committed to helping you in your transition to university and facilitating long lasting connections with your peers.