Job Offer Negotiations Workshop with Dr. Haniyeh Yousofpour | October 5
Important Notice
For the latest information and updates about McMaster's response to COVID-19 (coronavirus) please visit the McMaster COVID-19 site.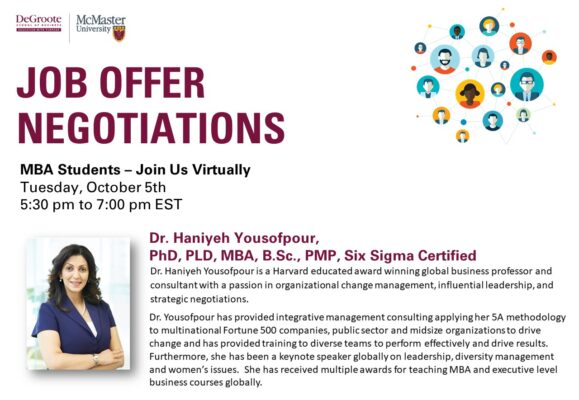 Join Dr. Haniyeh Yousofpour, PhD, PLD, MBA, B.Sc., PMP, Six Sigma Certified, for this session.
Negotiation is a skill that we use both in our personal and professional lives! It is essential to understand the different components of effective negotiation and develop strategies to achieve optimal outcomes. During this workshop, you will learn about the principles of negotiation, different negotiation stages and practical tactics. You will learn how to be a more influential negotiation, especially when you want to negotiate a better job offer!
What you need to know:
You must register in advance for this session
Event Details:
Tuesday, October 5
Time: 5:30 – 7 p.m. (EDT)
Register: OSCARplus