Nominate an MBA COVID Champion by Jan. 17
Important Notice
For the latest information and updates about McMaster's response to COVID-19 (coronavirus) please visit the McMaster COVID-19 site.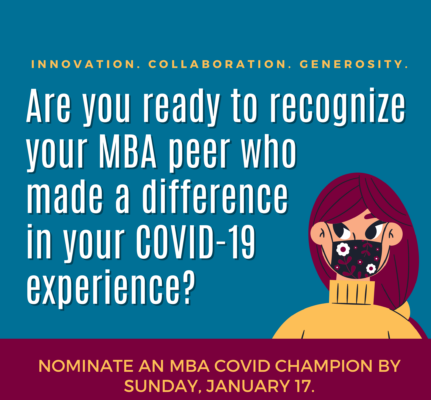 While the pandemic has been difficult for everyone – with each person facing their own unique set of challenges – many of us are lucky to know someone who has gone above and beyond. Despite these unprecedented global events, our DeGroote values – innovation, collaboration and generosity – have continued to thrive. 
As we enter a new year full of hope for the future, we want to help you recognize and celebrate your MBA peers who exemplified DeGroote's values during the pandemic, through our new MBA COVID Champions nominations. 
Nomination Criteria: 
Both 

nominator

 and 

nominee

 

must be current

 MBA students

 who have not yet convocated

.

 

A COVID Champion

s

 nominee is an MBA student who has

 exemplified

 

at least

 

one of DeGroote's values during COVID-19

. Some examples 

are

:

Generosity

:

 A

 student who has been generous with their time 

in

 

supporting

 you 

(peer mentoring, sharing best practices

, or simply someone who has been there to listen).

Innovation

:

 

A

 

classmate who demonstrated a 

creative

 solution to a challenge

 

or identified an 

opportunity 

in

 the current environment. 

 

Collaboration

: 

A

 classmate who went over and above during a group project

 or 

student activity/event.

 
These are just a few examples. A COVID Champion is really someone who has made a difference for you during the Fall term. Tell us what that means for you. 
How it works: 
N

ominate a

n MBA student

 

by Sunday, January 17 at 11:59 p.m. (EST).

 

 

You will be asked to provide:

You

r

 fir

st name, last name and McMaster email

 

The nominee's first name, last name and McMaster email

 

The

 one

 DeGroote value

 

the nominee has exemplified

 

Please note: 

You can submit up to a 

max

 of three nominations for three separate nominees

. Each nomination will require a separate form to be submitted.

 

A 

250

–

word

 (max) description of the contribution the nominee has made

 in connection with 

one selected

 DeGroote value.

 
Selection Process & Awards
N

ominees will be rev

iewed

 by a panel

 and

 

six

 winners 

will be selected

 

(two from each category)

.

 

The six winners will each receive a gift card valued at $50 CDN.

 

Winners will be 

notified

 and their stories 

may be

 shared (with their 

consent).

 
Questions? Reach out to Sandie Kantor, Student Experience, Communications Specialist.