Becoming Yourself Series 3.0 – Wholehearted Living (Online)
extracurricular
| April 28, 2020
Submitted by
Hardil Bhatt
for McMaster Open Circle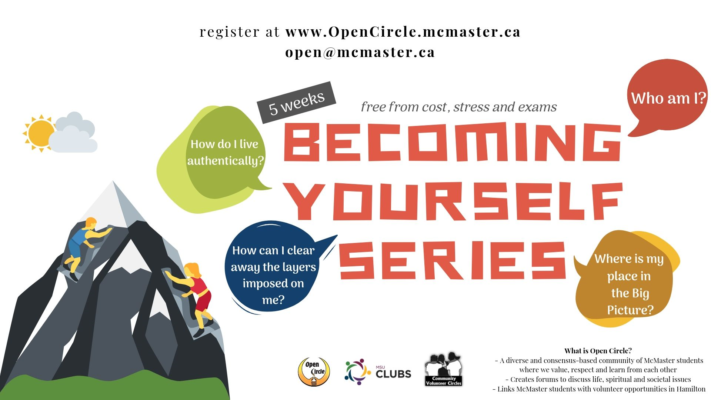 Five week series free from cost, stress, and exams
Offered online, May 6 – June 11. Choose from Wednesdays 11:30 or Thursdays 4:30.
Enter the spring-summer term living wholeheartedly while accepting your gifts, imperfections, and areas of growth as clues to your authentic self. Practice self-compassion and mindfulness during these challenging times of uncertainty.
Experience:
Mindfulness and self-care practices
Reflective exercises to discover more of who you are
Attention to your dreams and what they are telling you about yourself
Treating yourself with kindness and respect, letting go of comparison and self-criticism
Exploring how to say no to that which is not you
Struggle as a path to bravery, kindness, wisdom, and resilience
A chance to share ideas for authentic living with others who are asking similar questions.
The course includes weekly 50 minute online workshops with interactive group exercises, self-awareness and mindfulness practices to try at home, and an online meeting with a staff coach. You will be guided in practicing daily mindfulness exercises in your own time and submit a short weekly reflection about your experiences of these exercises.
A completion certificate will be granted for participating in the full 5 weeks and staff coaching session.
Open to all students. You do not need to have completed Series 1.0-2.0 to benefit from this Course.