Online Grief Support Sharing Circle | Oct 8
extracurricular
| October 7, 2020
Submitted by
Hardil Bhatt
for Student Open Circles
Important Notice
For the latest information and updates about McMaster's response to COVID-19 (coronavirus) please visit the McMaster COVID-19 site.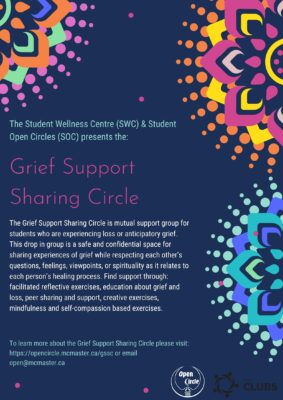 A mutual support group for students who are experiencing loss or anticipatory grief. This group is a safe and confidential space for sharing experiences of grief while respecting each other's questions, feelings, viewpoints, or spirituality as it relates to each person's healing process.
Find support through: facilitated reflective exercises, education about grief and loss, peer sharing and support, creative exercises, mindfulness and self-compassion based exercises.
Event details:
Thursday, October 8
9:30 – 11 a.m. (EST)
Join the circle by e-mailing from your McMaster e-mail to leismb@mcmaster.ca 
Visit Open Circle's website for full program offerings and information.