Ontario Public Service's 2nd ECOP Challenge with DataDocket
Important Notice
For the latest information and updates about McMaster's response to COVID-19 (coronavirus) please visit the McMaster COVID-19 site.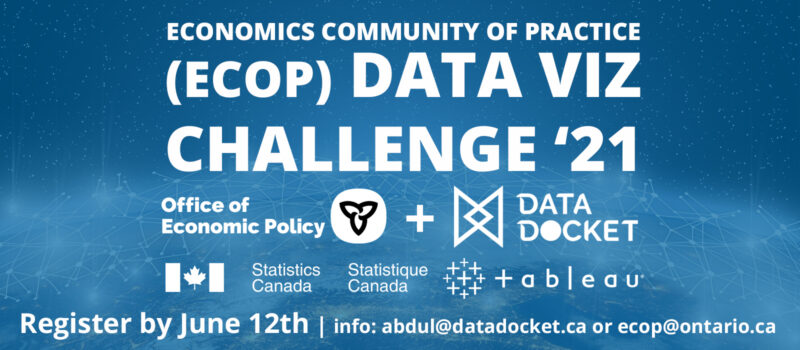 We are excited to be launching the 2nd ECOP DataViz Challenge with the Office of Economic Policy, with help from our friends at StatCan and Tableau. This challenge will look at Ontario's economic health through the pandemic and the gradual process of economic recovery.
We invite all graduate students to take part and be paired with representatives from the OPS and StatCan to provide novel insights through data manipulation and visualization. Students will also get the opportunity to help shape Ontario's economic policy, and work on a project that would benefit all Canadians.
Teams will consist of: 3 students + 2 – 3 OPS representatives + 1 StatCan representative Registration Closes: June 12 at 11:59 pm EST
Questions & Data sets released on DataDocket.ca: June 12 at 11:59 pm EST
Q&A Session & Bootcamp: June 14
Submissions Deadline: June 27t at 11:59 pm
Winners Announced & Closing Cermony: July 7
Sign up directly through www.datadocket.ca/ecop2.